Senate Passes Bill to Expand Access to Psychological Services
Access to all types of health care is a serious concern for many Pennsylvanians, especially in rural areas like ours where a lack of providers presents an imposing barrier to care. The Senate recently passed a bill I sponsored that would help improve access to psychology services through the use of new communications technology.
My bill would allow Pennsylvania to join the Psychology Interjurisdictional Compact (PSYPACT) to allow psychologists to practice across state lines. Joining this compact would allow psychologists to serve patients through telepsychology, as well as temporary in-person, face-to-face practice, without the need to obtain a license in multiple states.
More details about the bill are available here.
Down Syndrome Protection Act Approved by Lawmakers, Vetoed by Governor
Many individuals with Down syndrome live long, productive lives. They are thriving and loving individuals who should never be deemed undesirable or unwanted. The Senate approved a bill last week that would prohibit these individuals from being eliminated based solely on a prenatal diagnosis of Down syndrome.
The Down Syndrome Protection Act would prohibit the practice of selectively aborting babies based on a diagnosis of Down syndrome if that is the only reason for the abortion. Nothing in the bill would interfere with the existing ability of a woman to obtain an abortion in cases of rape, incest or endangerment to the mother.
Although I am disappointed that Governor Wolf vetoed this legislation, I will never stop fighting to protect the most basic right of individuals with Down syndrome – the right to exist.
More information about the bill is available here. My remarks about the bill are available in the video below.
Bill to Increase Pensions for Wounded Veterans Moves Forward
The Blind Veterans Pension Program and the Amputee and Paralyzed Veterans Pension Program support the incredibly brave men and women who suffered terrible injuries in the course of defending our nation. The Senate Veterans Affairs and Emergency Preparedness Committee recently passed a bill I authored that would increase pensions for these heroes. Video available here:
Pensions for both programs have remained stagnant for 20 years. More information about how the bill would help these veterans is available here.
State Funding Supports Community Projects
Several important community projects will move forward thanks to financial support from state agencies.
The Nehemiah Project was awarded $157,500 in tax credits to fund a new roof and other renovations at The Wright Place for Kids, as well as beautification measures at Hope Community Playground and the redevelopment of a blighted property for a future housing development. In addition, the funding will support a summer reading camp, nutrition services for needy students, and other charitable food programs to support families in need.
More information on the Nehemiah project is available here.
The Altoona Water Authority will also receive $900,000 to assist in the purchase of 2,450 acres in Logan Township, Blair County for a watershed. The project will support open space, water resource protection and recreation opportunities for visitors and community residents. More information about the project is available here.
---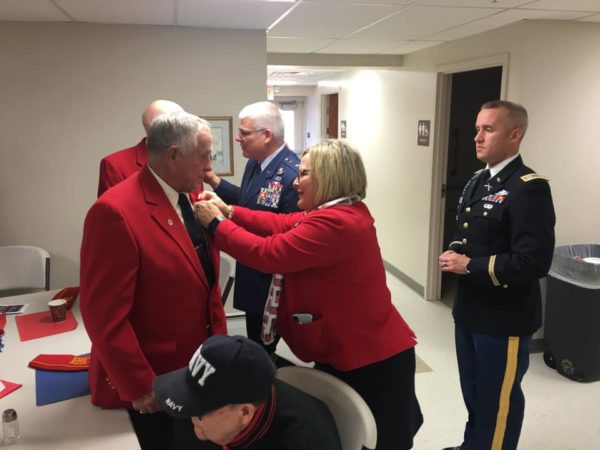 I was honored to join Representative Barb Gleim in hosting an appreciation breakfast for veterans at Zion Evangelical Lutheran Church in Newville. As a token of appreciation, we gave each veteran a pin in recognition of their service and sacrifice to our great nation.
---
Letter to DEP Secretary Regarding MS4 Requirements
Back in September, the state Senate Environmental Resources & Energy Committee came to Antrim Township to discuss at a public hearing the Municipal Separate Storm Sewer System (MS4) requirements; a number of questions and concerns were raised by constituents.
I am concerned about the tremendous financial burden the MS4 mandates are placing on municipalities, businesses and residents. The requirements being mandated on our communities are very burdensome and extremely costly. The impact of these regulations on taxpayers is significant and alarming and may result in a considerable negative economic impact over time.
Video and testimony from the hearing are available here.
As a result of this hearing, I have sent a letter to the Secretary of the Department of Environmental Protection pointing out my concerns and suggestions received from those impacted by these requirements. That letter is available here.
Senate Supports Stronger Penalties Against Human Trafficking
Human trafficking hurts families in every region of the Commonwealth. I was proud to support a bill last week that would create stronger penalties against all individuals who support the exploitation of victims.
The bill would ensure the most serious offenders who directly participate in the trafficking of minors for prostitution and related crimes could face imprisonment of 40 years or more. Fines and penalties against offenders who solicit the services of human trafficking victims would also see significant increases, including fines of up to $50,000 for repeat offenders.
More details about the bill are available here.
Bill Providing New Resources for Pediatric Cancer Research Earns Senate Approval
A cancer diagnosis is one of the most terrifying events that any family can face, and the concerns are compounded when the patient is a child. I recently supported passage of a bill in the Senate that would provide new resources for pediatric cancer research in order to support better treatments and stronger outcomes for young patients.
The bill would create a tax credit program for qualifying donations to a Pennsylvania pediatric cancer research hospital. The plan could help generate up to $100 million in private donations to support childhood cancer research over the next 10 years.
More information about the bill is available here.