February 11, 2019
Governor's Budget Address Includes Reasons for Optimism
Last week Governor Wolf unveiled the details of his 2019-20 state budget proposal. The $34.1 billion budget would increase state spending by $927 million over the current year's total. The governor also proposed $4.5 billion in borrowing to fund new community projects throughout the state. The new borrowing would be funded by a severance tax on natural gas producers.
Any potential spending increase of nearly a billion dollars is a serious cause for concern. Although I am pleased that the governor proposed a balanced budget that did not increase broad-based taxes, we need to take a closer look at ways that we can rein in state spending to avoid the need for tax increases in the future.
I am happy to see the budget focus on career and technical education, workforce development and a focus on helping agriculture. Basic Education and Special Education programs are increased.
This budget proposal is only the beginning of the process, and it represents a good starting point for negotiations.
My reaction to the budget, including video and audio, is available here.
Bill to Expand Eligibility for Disabled Veteran License Plates Moves Forward
Many veterans who have a disability face significant challenges to their mobility and their ability to complete tasks that most of us take for granted, like grocery shopping or going to medical appointments.
Last week the Senate Transportation Committee approved a bill I introduced that would help a larger number of disabled veterans qualify for a disabled veteran license plate, which would allow them to park in areas reserved for handicapped parking.
More information about my bill is available here.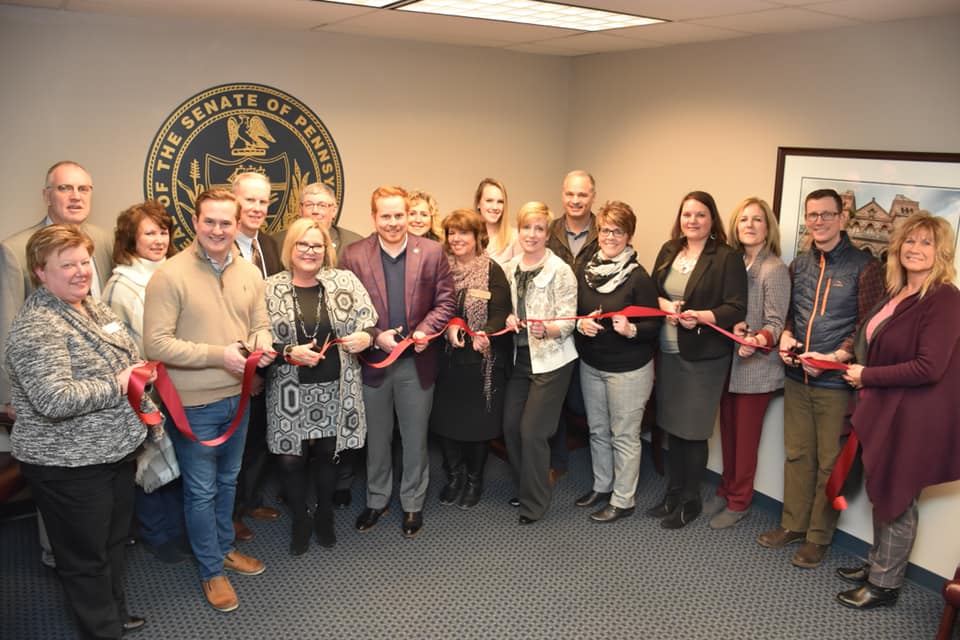 Thanks to everyone who braved the cold to attend the open house and ribbon cutting of my Hollidaysburg office. It was so nice to see all the smiling faces!
Next Open House Scheduled for February 26
I look forward to hosting another open house at my McConnellsburg office on Tuesday, February 26 from 11 a.m. until 5p.m. with a ribbon cutting at 2 p.m. The event offers a chance to discuss local issues and learn more about the services that my office provides. I hope to see you there.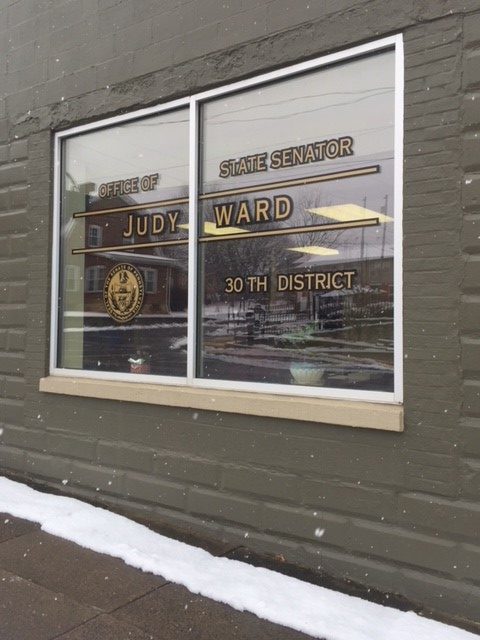 Property Tax Rent Rebate Forms Available
Application forms and additional information on the state's Property Tax Rent Rebate program are available now at my district offices in Hollidaysburg and McConnellsburg. The program provides rebates of up to $650 on property taxes or rent paid in 2018.
To be eligible, applicants must meet income requirements and be a Pennsylvania resident age 65 and older; a widow or widower age 50 or older; or a permanently disabled individual age 18 or older. The program is available to homeowners with a household income of $35,000 or less and renters with a household income of $15,000 or less, excluding one-half of Social Security Income and Railroad Retirement Tier 1 benefits. Rebate amounts vary based on income.
Please feel free to contact me if you have questions about the program or need assistance in obtaining or completing an application.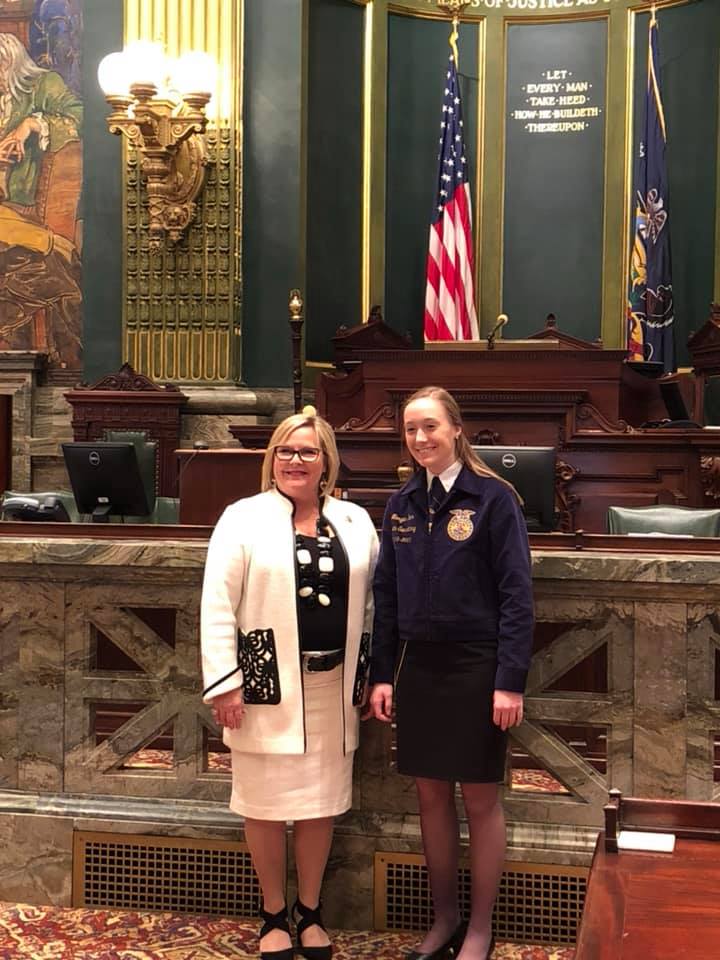 It was so nice to meet and visit with Big Spring High School graduate and Future Farmers of America Secretary Morgan Bear during her visit to the Capitol.
Senate Votes to Strip Pensions for Job-Related Felonies
I supported a measure passed by the Senate this week to hold public employees and lawmakers accountable when they break the public's trust. The bill would prevent any public employee or official from receiving a pension if they are convicted of committing a job-related felony.
The bill also ensures convictions are reported to state pension boards to ensure no cases are allowed to slip between the cracks.
Public employees should never, ever be rewarded for defrauding taxpayers for personal gain. I am hopeful this bill will be considered by the House of Representatives and signed into law soon. More information about the bill is available here.
New Hours of Operation for Local Driver's License Centers
Two local Driver's License Centers began operating on a new schedule beginning last week. The new hours of operation are as follows:
Altoona Driver's License Center will be Tuesday through Saturday from 8:30 a.m. to 4:15 p.m.
Altoona Photo License Center will be Tuesday, Wednesday, Friday and Saturday from 8:30 a.m. to 4:15 p.m.; Thursday from 8:30 a.m. to 6:00 p.m.
Huntingdon Driver's License Center will be Thursday from 8:30 a.m. to 3:30 p.m.
Huntingdon Photo License Center will be Thursday and Saturday from 8:30 a.m. to 4:15 p.m.
Applications Available for Parks, Recreation and Conservation Grants
Recreation and conservation organizations and local governments can apply now for grants from the Department of Conservation and Natural Resources.
The Community Conservation Partnerships Program provides funding for a variety of projects, including public parks; recreation areas; motorized and non-motorized trails; river conservation and access; stream buffers; open space conservation; and regional and statewide partnerships to better develop and manage resources.
The application deadline is April 10. Additional details and applications are available here.
SWIF Will Refund Overcharges to Employers
The State Workers Insurance Fund (SWIF) will refund employers who were overcharged for workers compensation policies written between April 1 and December 31 of last year. More details about the situation are available here.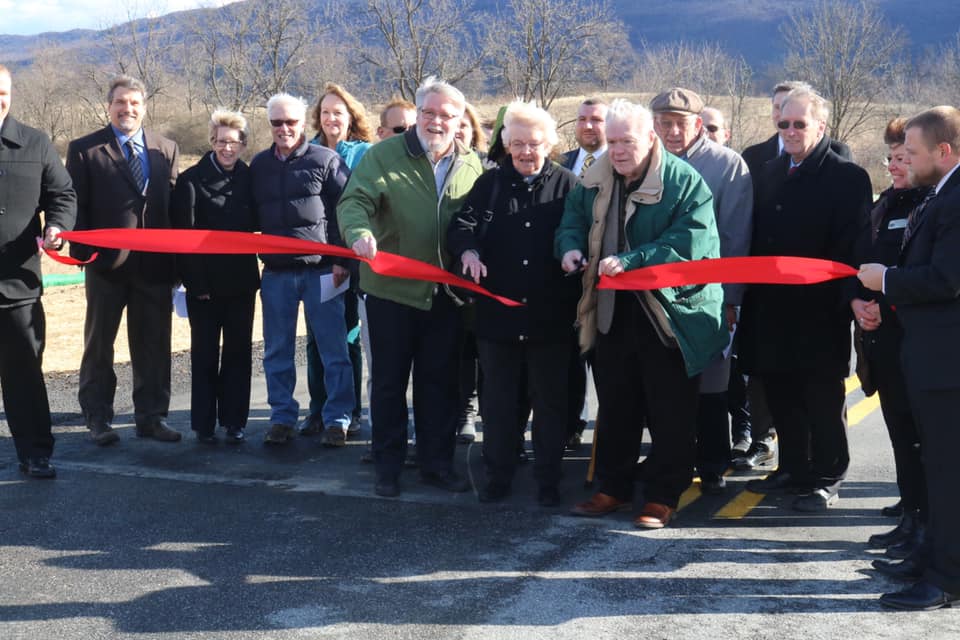 My staff was on hand at the ribbon cutting for the new access road named Washabaugh Drive connecting Peach Orchard and Lincoln Highway. The new road infrastructure will open up the east end of the Fulton County Medical Center Campus to development.
Recognizing Cardiac and Pulmonary Rehabilitation Weeks
I joined Senator Baker in drawing attention to the role that pulmonary and cardiac rehabilitation serves in enhancing the quality of life for individuals. These resolutions recognize Cardiac Rehabilitation Week as February 10th -16th and Pulmonary Rehabilitation Week as March 10th -16th in Pennsylvania.
Thank you to all cardiac/pulmonary rehab professionals and the quality of care you provide to your patients. My remarks are here.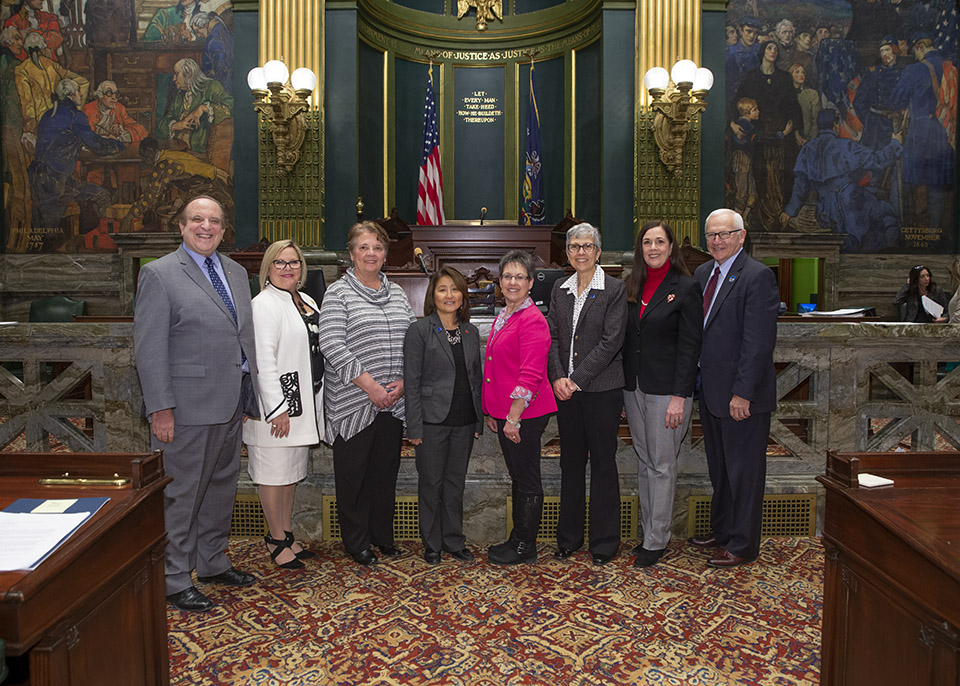 Also, as part of Cardiac and Pulmonary Rehabilitation Week my colleagues and I had some professionals in this field join us and among them was Denise Sheffield RN from J.C Blair Memorial Hospital.