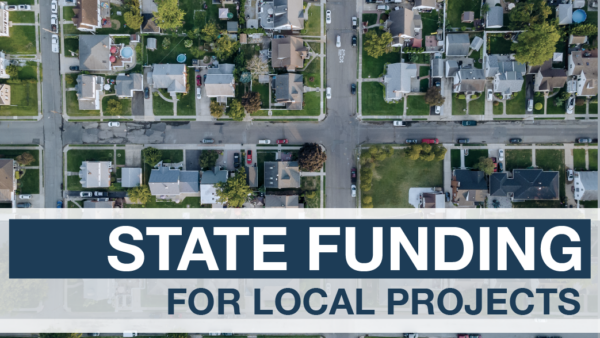 HOLLIDAYSBURG – State Sen. Judy Ward (R-30) today announced residents in Hollidaysburg and Bellwood Borough will benefit from a combined $9.6 million in funding for water and sewer system repairs.
The funding was approved by the Pennsylvania Infrastructure Investment Authority (PENNVEST). PENNVEST is an independent agency of the Commonwealth providing financial assistance to fund construction of drinking water, sewer and stormwater projects in communities throughout Pennsylvania.
Bellwood Borough Authority will receive nearly $5.8 million for the final phase of its waterline replacement project. This phase calls for the installation of nearly 20,000 feet of water main and 21 fire hydrants plus service connections.
"Aging waterlines pose a significant public health challenge for communities," Ward said. "PENNVEST's support of this project will allow the Bellwood Borough Authority to replace the old leaded joints in its system, resulting in a better, more reliable system for the customers it serves."
The Hollidaysburg Sewer Authority will receive more than $3.9 million to install approximately 2,800 feet of sanitary line and 2,250 feet of storm line along Clark Street and South Juniata Street. The customers currently have a combined sewer system. During extreme storms, large amounts of rainfall can cause the sewage treatment plan to overflow. The separation of the sanitary and storm lines should help mitigate this problem.
"The inflow and infiltration of stormwater into sanitary sewer systems results in significant public health and water quality impacts for communities across the state," Ward said. "I applaud the efforts of the Hollidaysburg Sewer Authority for taking the necessary steps to address these issues, and I am pleased about this PENNVEST investment that will enable these improvements to this system."
Residents can follow Ward on Facebook at www.Facebook.com/SenJudyWard and Twitter @SenatorJWard for news about legislation and the 30th Senate District. Contact information for her district offices and other information can be found on her website at SenatorJudyWard.com, and constituents also can sign up for her e-newsletter at SenatorJudyWard.com/enewsletters.
Media Contact: Nathan Akers
717-787-2421