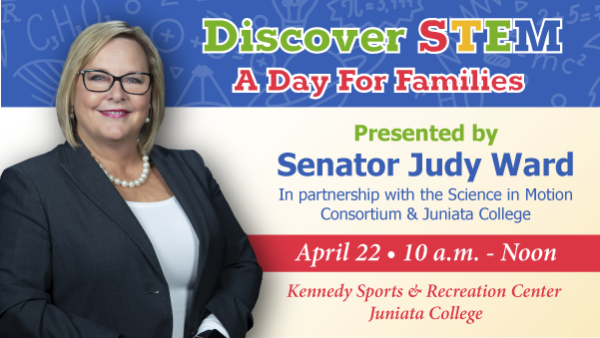 HOLLIDAYSBURG – State Sen. Judy Ward (R-30) is hosting Discover STEM, a free event for all ages, on Saturday, April 22, from 10 a.m. to noon at the Kennedy Sports and Recreation Center, Juniata College.
Juniata College is located at 1700 Moore St., Huntingdon.
The educational and interactive event for families will enable participants to explore science, technology, engineering and math (STEM), four of the foundational skills to help children succeed in their careers and lives.
Attendees will be able to visit the StarLab, watch ice cream being made, code their way through the world of robots, discover secrets about the animal kingdom and experience more hands-on activities.
Ward is presenting the event in partnership with Juniata College and the Science in Motion Consortium.
Science in Motion is a state partnership program with colleges and universities. Science in Motion educators bring science and technology learning to students across the commonwealth.
Contact: Nathan Akers
717-787-2421