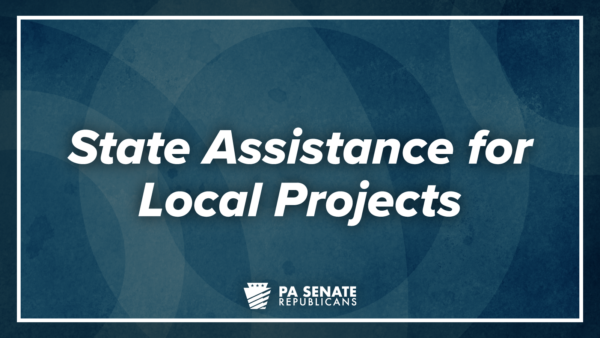 Funds to pay for Altoona fire truck, Allegheny Township police vehicles and Logan Township Strawberry Hills Soccer Complex
HARRISBURG – State Sen. Judy Ward (R-30) and state Rep. Lou Schmitt (R-79) today announced more than $1.6 million in state grant funding has been awarded to three projects in Blair County.
"The grant guidelines for this program were very broad, and there was significant competition from a variety of excellent projects throughout the district," Ward said. "Public protection is a primary responsibility of our government, and providing our emergency services providers and law enforcement agencies with the necessary equipment to keep our communities safe is an excellent use of this funding."
Altoona City was awarded more than $685,000 to help pay for a new fire pumper truck and Allegheny Township was awarded nearly $97,000 to purchase new police vehicles.
"Our valiant first responders put their lives on the line for us each and every day," Schmitt said. "These grants will help provide them with the tools they need to get the job of protecting us and our communities done."
Logan Township also received more than $850,000 for the first phase of the construction of the Strawberry Hills Soccer Complex.
"The growth of outdoor soccer presents recreational and economic opportunities for our region," Ward said. "In addition to providing our youth with high-quality fields, this soccer complex will benefit the region by attracting tournaments drawing large numbers of visitors to the area."
"I am glad to see this recreation initiative moving forward. Once complete, youth and families will have a new opportunity to enjoy the great outdoors," Schmitt said
Funding for the projects is being provided through the Commonwealth Financing Authority (CFA) Local Share Account (LSA) program, which uses gaming revenue to support projects in the public interest across the commonwealth.
The CFA was established in 2004 as an independent agency of the Pennsylvania Department of Community and Economic Development to administer the commonwealth's economic stimulus packages.
The Pennsylvania Race Horse Development and Gaming Act of 2004 provides for the distribution of gaming revenue through the CFA and its LSA program.
Residents can follow Ward on Facebook at www.Facebook.com/SenJudyWard and Twitter @SenatorJWard for news about legislation and the 30th Senate District. Contact information for her district offices and other information can be found on her website at SenatorJudyWard.com, and constituents also can sign up for her e-newsletter at SenatorJudyWard.com/enewsletters.
Ward Contact: Nathan Akers
717-787-2421
Schmitt Contact: Greg Gross
717-260-6374