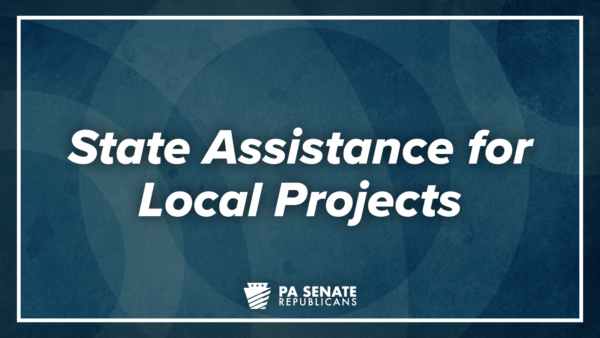 Funds to pay for Dreams Go On barn construction, Blair Township Tractor, and rail lines and facilities at DeGol Industrial Center
HARRISBURG – State Sen. Judy Ward (R-30) today announced more than $1.8 million in state grant funding has been awarded to three projects in Blair County.
Funding for two of the projects is being provided through the Commonwealth Financing Authority (CFA) Local Share Account (LSA) program, which uses gaming revenue to support projects in the public interest across the commonwealth. The Pennsylvania Race Horse Development and Gaming Act of 2004 provides for the distribution of gaming revenue through the CFA and its LSA program.
Through the LSA Program, Frankstown Township was awarded $1 million on behalf of Dreams Go On, a nonprofit therapeutic riding center, to construct a new barn and indoor riding facility.
"The new Dreams Go On indoor riding facility will allow the organization to expand its therapeutic horseback riding services to Blair County adults and children with physical, mental, and behavioral challenges," Ward said. "The physical and mental benefits for these individuals can be life-changing, including muscular strengthening and toning, balance improvement, better control and coordination, increased self-esteem, and a sense of independence and freedom."
In addition, Blair Township was awarded more than $135,000 to help pay for a replacement tractor and boom mower.
"Municipalities face steep financial challenges that make large equipment purchases very difficult for them," Ward said. "This equipment will help Blair Township with day-to-day maintenance tasks required to keep public property in good condition."
The DeGol Industrial Center in Frankstown Township was awarded $750,000 for the installation of rail lines and facilities. Funding for this project is being provided through the Commonwealth Financing Authority (CFA) Multimodal Transportation Fund.
"The DeGol Industrial Center located at the former Hollidaysburg Car Shops has become a successful multi-tenant business park with tenants that rely upon rail access to efficiently transport materials and products," Ward said. "This investment in these cross-dock facilities will ensure commercial and industrial customers will have access to a premiere rail and freight hub right here in Blair County."
The CFA was established in 2004 as an independent agency of the Pennsylvania Department of Community and Economic Development to administer the commonwealth's economic stimulus packages.
Residents can follow Ward on Facebook at www.Facebook.com/SenJudyWard and Twitter @SenatorJWard for news about legislation and the 30th Senate District. Contact information for her district offices and other information can be found on her website at SenatorJudyWard.com, and constituents also can sign up for her e-newsletter at SenatorJudyWard.com/enewsletters.
Ward Contact: Nathan Akers
717-787-2421