HARRISBURG – A group of Senate Republican lawmakers announced a package of bills today designed to support small businesses that have been affected by Governor Wolf's response to the COVID-19 pandemic.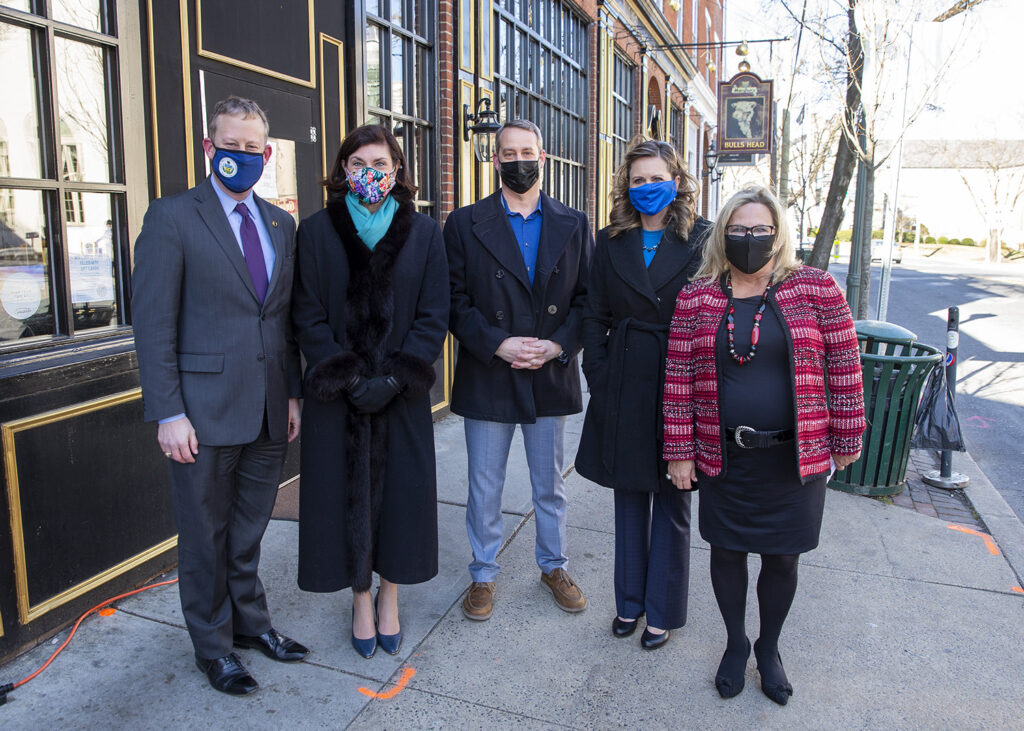 Senators Ryan P. Aument (R-36), Camera Bartolotta (R-46), Judy Ward (R-30) and Kristin Phillips-Hill (R-28) held a news conference today at Lititz Springs Inn & Spa and The Bulls Head Public House in Lititz to announce the Prioritize PA: Small Businesses initiative. The package of bills includes immediate financial and tax relief for smaller employers and regulatory reforms to reduce burdens on small businesses.
During the news conference, Senator Aument highlighted a five-bill package designed to aid small businesses that are struggling to recover from the COVID-19 pandemic.
The package will include no-interest loans to struggling small businesses, a tax credit program modeled after the successful Education Improvement Tax Credit Program, a temporary waiver of fees for various state licensing, the ability to deduct property taxes from the state's Corporate Net Income or Personal Income Tax liability, and a three-year option to offset earnings from prior years or future years against current year losses and get refunds for prior years (carryback) or cut future tax bills (carryforward).
"As we celebrate moving toward herd immunity, reopening our economy, and returning to a sense of normalcy again, we must not forget our small businesses, particularly those in the hospitality industry, that have suffered immensely throughout this pandemic," said Aument. "The punitive mitigation efforts from this Administration have unfairly and disproportionately harmed our once thriving small business community, and it is my hope that the bills in this package will provide both the immediate and long-term relief that they so desperately need."
Also included in the package is Senate Bill 368, sponsored by Senators Bartolotta and Ward, which would update state tax laws in order to provide critical assistance to small businesses that have been impacted by the COVID-19 pandemic.
The legislation would allow small businesses to take a net loss against other sources of income; permit small businesses to take Net Operating Losses against future years for up to 20 years; and temporarily allow small businesses to "carry back" losses to previous tax years. These changes would allow small business owners the option to benefit from the same tax strategies as their larger competitors and provide the same immediate relief that is offered at the federal level.
"We have heard from so many of our small business owners about the devastation caused by the pandemic and Governor Wolf's heavy-handed response to it," Bartolotta said. "Our bill provides the kind of immediate relief our smaller employers need to level the playing field and help them recover and rebuild."
"Many small businesses that have been profitable for years are now seeing losses that are entirely due to COVID-19. Small shops and mom-and-pop operations do not have massive amounts of savings; they are holding on by a thread," Ward said. "We cannot allow these families to lose everything they have worked so hard to build."
In addition to providing small business relief, the package also includes legislation sponsored by Senator Phillips-Hill that provides comprehensive regulatory reform to help small businesses cut through the mountain of red tape created by state government agencies.
Senate Bill 32 would help the state grapple with its excessive regulatory burden by creating an Independent Office of the Repealer to help identify and eliminate outdated or onerous regulations. The measure would also provide greater legislative oversight for proposed economically significant regulations and provide greater transparency and accessibility to the regulatory process in every agency in state government.
According to the World Bank and the Mercatus Center at George Mason University, overregulation consumes between .8 to 2.3 percent of GDP annually.
"Regulations are a self-made problem that are in part the result of choices made by the legislative branch of government. As a result, state agencies develop rules and regulations that place new burdens on small businesses," Phillips-Hill said. "We must reverse this trend of growing regulations and the negative impact that it has on our economy."
The bills in the Prioritize PA: Small Businesses package stand in stark contrast to Governor Wolf's budget proposal, which would raise taxes on hundreds of thousands of small businesses and create additional cost burdens through a minimum wage hike to $15 an hour. The provisions would be a serious blow to small employers who are already struggling due to Governor Wolf's business shutdowns and restrictions during the COVID-19 pandemic.
Several statewide industry groups have voiced their support for the Prioritize Pennsylvania: Small Businesses package.
"There are many challenges that entrepreneurs face as they begin to recover and reopen to full capacity," said Pennsylvania Manufacturers' Association President and CEO David N. Taylor. "But with every challenge comes an opportunity to rethink and better support our many industries. We certainly cannot tax our way out of this unfortunate situation, but with robust and sustained economic growth, our businesses can recover, our citizens can obtain meaningful work, and our state revenues will reflect this success."
"The COVID-19 pandemic has had a profound impact on businesses of all sizes across the Commonwealth and our nation," said Pennsylvania Restaurant and Lodging Association President and CEO John Longstreet. "In an effort to rebuild our state's economy and boost our once vibrant small businesses, the Prioritize Pennsylvania: Small Businesses package is a coordinated approach that will not only help us get through the end of this pandemic, but will also make significant reforms to improve and revitalize the state's economic climate to strengthen our small businesses."
The lawmakers also pointed out that other bills introduced or announced by Senate Republicans could help improve the jobs climate in Pennsylvania and support small employers, including:
CONTACT: Stephanie Applegate (717) 787-4420 (Senator Aument)
Jon Hopcraft (717) 787-7085 (Senator Phillips-Hill)
Colleen Greer (717) 787-1463 (Senator Bartolotta)
Cheryl Schriner (717) 787-5490 (Senator Ward)