Senate Approves New Protections for Healthcare Practitioners, Technicians
Healthcare providers have reported an uptick in the number of assaults and other dangerous situations faced in the performance of their job. The Senate recently passed a bill I authored that would provide new protections for a broad number of healthcare practitioners and technicians by increasing the penalties for assaulting these critical personnel.
Assaults against doctors, nurses and EMTs already draw stiffer penalties under state law. My bill would extend the same protections to a broader range of health care practitioners, including social workers, pharmacists, audiologists, physical therapists, occupational therapists, athletic trainers, dietitian-nutritionists, massage therapists, optometrists, podiatrists, physician assistants and respiratory therapists and ultrasound technicians.
A number of health care technicians would also be included under the bill, such as cardiac device specialists, diagnostic medical sonographers, cardiac sonographers, exercise physiologists, vascular technologists, pharmacy technicians and physical therapy aides.
More information about the bill is available here.
---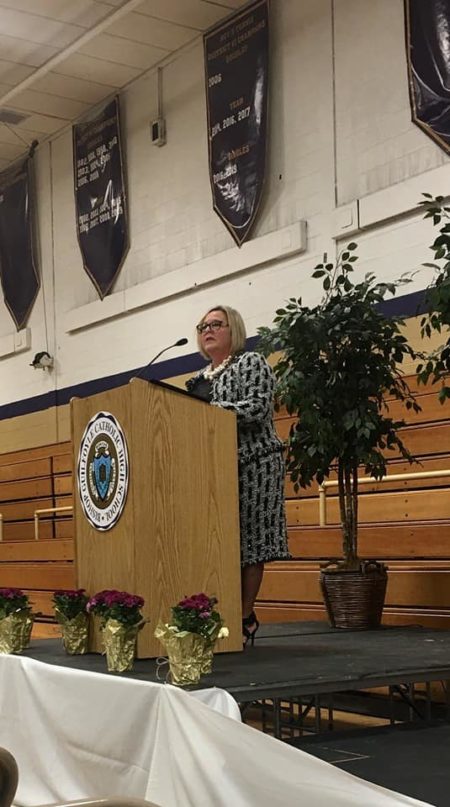 I was honored to be the keynote speaker for Bishop Guilfoyle Catholic High School's "Live Your Best Life" lecture series at their annual donor appreciation breakfast that included the student body.
---
New Tool to Support Blight Remediation Moves Forward
Abandoned and dilapidated properties create an eyesore in the community and create an expensive mess for taxpayers through unpaid taxes, ratepayers through delinquent utility bills, and neighboring property owners because of lower property values. The Senate passed a bill last week that I sponsored to give municipalities a new tool to transform blighted buildings into thriving, mixed-use properties that support more vibrant communities.
My bill would allow local taxing authorities to provide a tax exemption for up to 10 years for any improvements and new construction on blighted properties. The exemption would only apply to projects if all zoning ordinances are observed, all code violations are cleared, all delinquencies are cleared, and the value of the property increases by at least 25 percent.
More details about the bill are available here.
---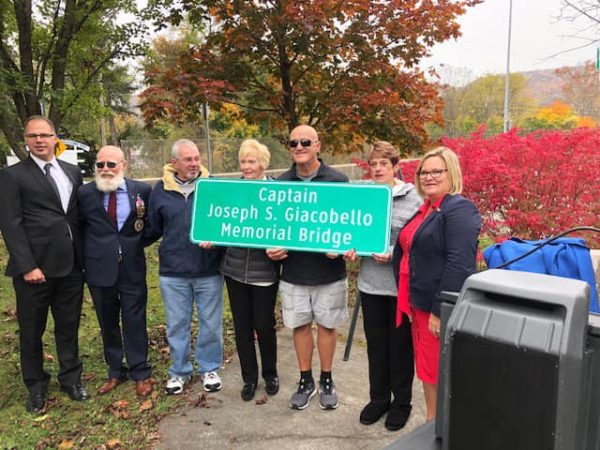 I was honored to attend the Captain Joseph S. Giacobello Bridge Naming Ceremony in Mt. Union with my colleague Representative Rich Irvin.
---
REMINDER: Dessert Social Scheduled to Honor Local Veterans
I look forward to honoring the brave men and women who have served in the military during a special Veterans Appreciation Dessert Social on November 7 at 7 p.m. at the American Legion Social Hall at 104 Dell Delight Legion Park in Hollidaysburg. All local veterans are invited to attend!
Special thanks goes out to American Legion Post 516 for agreeing to host this event in conjunction with my office. More information is available by calling 814-695-8386. I hope to see you there!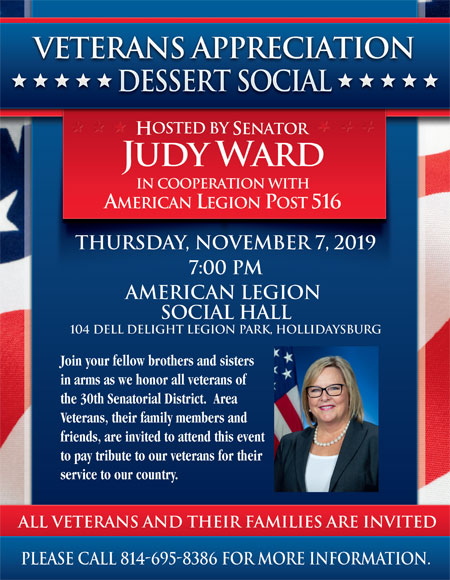 More Local Charities Could Soon Qualify for Fundraising Opportunity
Local organizations dedicated to helping community residents with cancer and disabilities could benefit from new fundraising opportunities under a bill I authored and approved by the Senate.
Senate Bill 61 would expand the list of eligible organizations to any non-profit organizations that has been in existence for at least five years, is registered with the PA Bureau of Corporations and Charitable Organizations, and is also recognized as a community-based voluntary organization committed to fighting cancer; this would include a Blair County organization.
The bill would also enable The Arc of Blair County, which has provided vital services and programs in the community for individuals with disabilities and their families since 1954, to qualify for a special occasion permit and give additional fundraising opportunities to help them operate and continue to provide critical services.
Our area is fortunate to have a number of amazing individuals and organizations who are dedicated to making life better for community residents who face extraordinary health challenges. These groups and the people they serve deserve our support, and I am thankful that we are one step closer to giving them a new option to raise money.
More details about the bill are available here.
---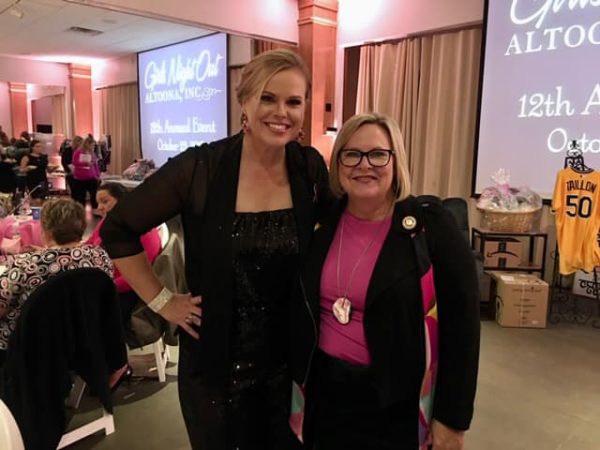 I had an amazing time at the "Girls Night Out" event at the Jaffa Mosque in Altoona to raise money for breast cancer research and mammograms for women. Amy Mearkle from DelGrosso Foods served as the emcee for the event, which was attended by 950 people.
---
Application Period Opens for Specialty Crop Block Grant Program
A new law I authored earlier this year created the Pennsylvania Specialty Crop Block Grant Program, which provides funding to enhance the market for niche crops like hemp, hops, hardwoods, honey; and barley, rye and wheat for distilling, brewing and malting. The application period for the grant program is open through December 2.
More information and applications for the program are available here.
---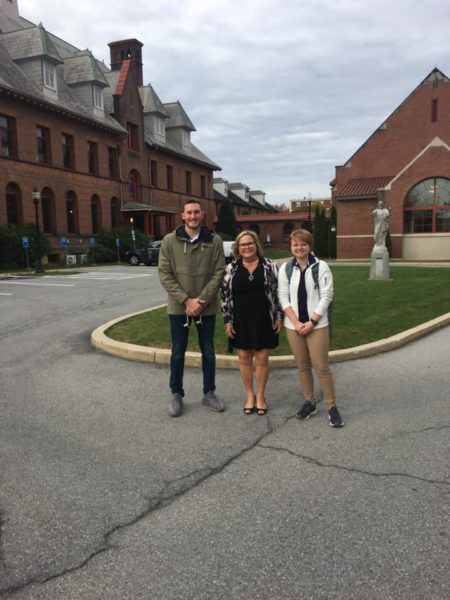 My thanks goes out to my two wonderful tour guides for showing me around the beautiful campus at Mount Aloysius College. Matt is a sophomore Accounting/Business major, and Melissa is a sophomore Communications major.
---
Workforce Development Grant Applications Due November 15
Applications are available now for grants to help businesses and school districts expand career opportunities throughout Pennsylvania. The Business-Education Partnership grants are targeted to local workforce development boards to help raise awareness of in-demand technical career options for students, parents, guardians and school faculty.
The deadline to apply is November 15. More information is available here.
---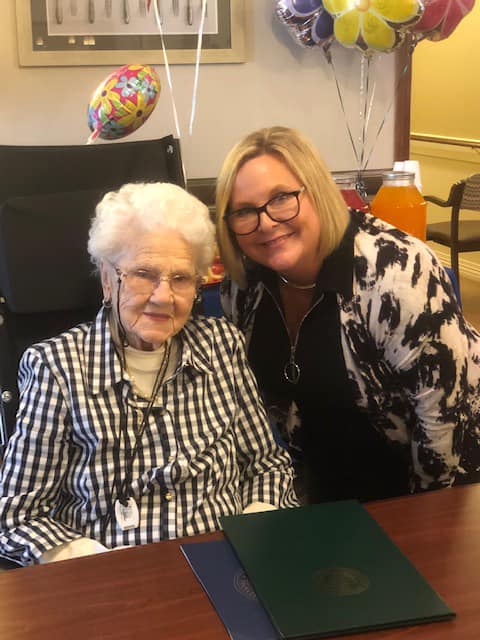 I was thrilled to help Emma Zimmerman celebrate her 100th birthday at Colonial Court in Tyrone. Happy birthday, Emma!
---
New Keystone State ChalleNGe Academy Will Offer Opportunities for At-Risk Youth
Beginning in 2022, the Department of Military and Veterans Affairs will offer a new way to help at-risk youth get back on track academically and socially through the Keystone State ChalleNGe Academy. The academy, located at Fort Indiantown Gap in Lebanon County, is part of the Youth ChalleNGe Program which has helped more than 174,000 young people nationwide since its creation in 1993.
More details about this effort are available here.
---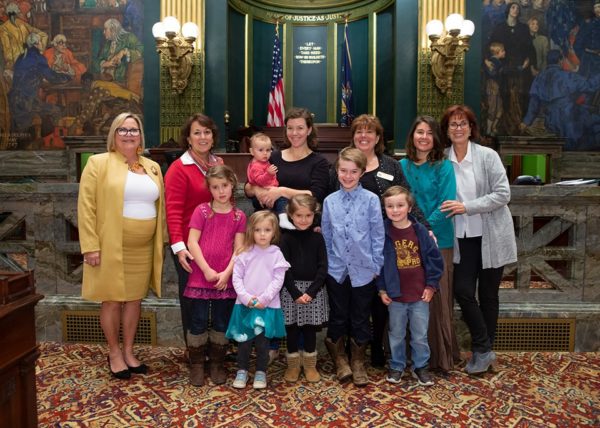 We had some very special guests in Harrisburg this week as Kathleen Gunnell and her family visited the Capitol. Kathleen works in my McConnellsburg office and is a great member of my team!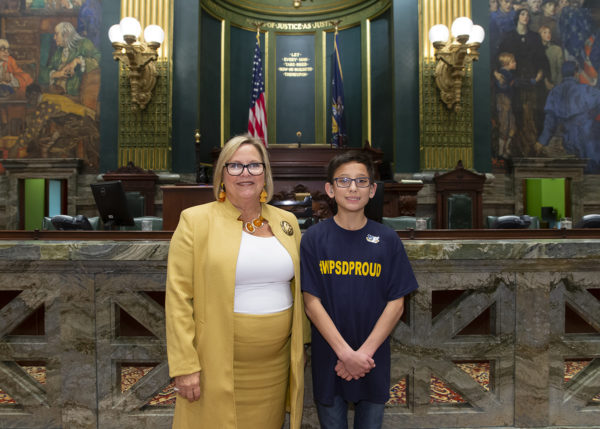 I had the privilege to meet and welcome Elisha from Huntingdon County to the Capitol. He is a sixth grader at Western Pennsylvania School for the Deaf. He enjoys playing sports and making friends. His dream job is to be a soldier because he wants to protect America!