In this Update:
Bill Would Give Parents Control Over Masking in School for Their Children
Election Investigation Update
PA to Lose Control Over Energy Production, Economy, Environmental Protections
Pennsylvania Senate Expense Reports Now Posted Online
Free Webinars Connect Military Veterans with Agriculture Business Funding
National Childhood Cancer Awareness Month
Out and About in the 30th
Have a Happy Labor Day
---
Bill Would Give Parents Control Over Masking in School for Their Children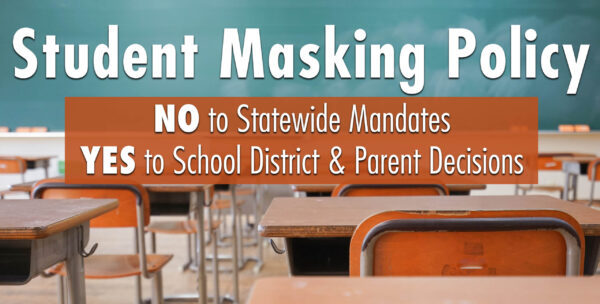 In a major policy reversal, Governor Wolf announced that masks will be required in all Pennsylvania public and private schools, as well as childcare facilities.
We all want to protect children, and no one cares more than the parents and school administrators in our communities. That's where the decision to mandate student masking should be made – at the local level.
In May, voters stripped Governor Wolf of his authority to unilaterally extend emergency declarations, and actions such as his statewide student mask mandate demonstrate why citizens made that decision.
Parental control over masking decisions in school is the foundation of a bill I have introduced with Senator Doug Mastriano.
Senate Bill 846 would require school districts to develop and promote a plan for parents or legal guardians to opt-out out their child from wearing a face covering or mask. The plan must also state that a child who has been opted-out will not be subject to any harassment or discriminatory treatment.
Every day I hear from parents who are concerned about masking and the long-term effects on learning and their children's health. Parents have the fundamental right to make health and educational decisions that are best suited for their children. The circumstances and issues in each of those local communities should drive the decisions there, not a statewide mandate.
Decisions were made to send children back to brick-and-mortar schools based upon local school district masking policies. The Wolf administration previously said it would leave masking decisions up to school districts but now that school has started, the Wolf Administration is changing the rules. School districts have worked hard to come up with their own COVID-19 mitigation strategies — some including optional masking, and some with required masking. Parents in my district are very upset with this change in plans impacting their children.
With all of that in mind, click here for more information about the compliance with the masking policy from the state Department of Health.
Election Investigation Update
Much of the work to date has been geared toward laying the groundwork and setting the stage for exactly how to conduct the election investigation. We know that parties who vehemently oppose our actions to take a closer look at Pennsylvania's election process and are going to be eager to take our efforts before the courts. Unfortunately, during the last several years and especially during November 2020 election, we have seen over and over again that the courts have made decisions not based on the law but rather on partisan politics.
In order to undo the damage that has been done to the integrity and confidence in our election, we must proceed in a way that is legally sound. I will continue to fight to uphold Pennsylvania law as it was written, not as it was interpreted by a hyper-partisan state Supreme Court – or Department of State for that matter. I will be keeping you updated as actions of the Intergovernmental Operations Committee continue and will continue to work to ensure our investigation of our election results and processes will go a long way toward restoring trust and support in our system. The Committee is scheduled to hold a hearing on the issues on Sept. 9.
PA to Lose Control Over Energy Production, Economy, Environmental Protections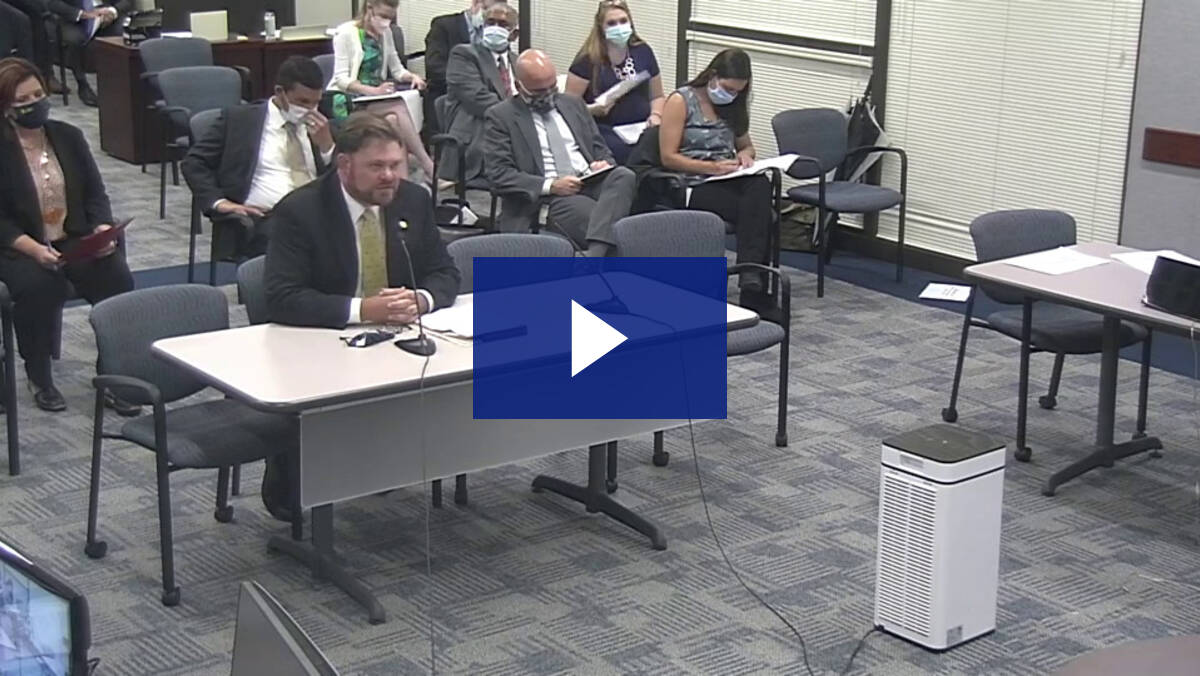 For the first time in Pennsylvania's history, a decision by the Independent Regulatory Review Commission has opened the door for Pennsylvania to join an interstate initiative without legislative approval.
The decision means Pennsylvania will lose control over our energy production, economic development, energy security and environmental protection. Instead of engaging with the General Assembly, the Wolf Administration, with IRRC's approval, will allow the decisions on these important matters to be determined by the likes of New York, New Jersey and other states who thumb their nose at Pennsylvania energy. To participate in Regional Greenhouse Gas Initiative RGGI) is to ignore the positive environmental impacts that are taking place right here in Pennsylvania, which include a dramatic reduction in carbon emissions over the past two decades.
On October 3, 2019, Governor Wolf directed the Department of Environmental Protection (DEP) to join RGGI — a collaboration of 11 Northeast and Mid-Atlantic states. The states (Connecticut, Delaware, Maine, Maryland, Massachusetts, New Hampshire, New Jersey, New York, Rhode Island, Vermont, and Virginia) set a cap on total Carbon Dioxide (CO2) emissions from electric power generators in their states.
To comply, power plants must purchase a credit or "allowance" for each ton of CO2 they emit. Pennsylvania would be the only state in the compact with a substantial number of coal or natural gas power energy production facility and the only one to join the compact without legislative approval.
I have strenuously opposed the Governor's edict since the beginning, citing that it overstepped the Administration's powers by usurping the legislature's exclusive powers to impose taxes and that the carbon tax would devastate local economies cost thousands of jobs. But just like with everything else, the Governor just vetoes bills passed by the legislature and implements his own plan.
Pennsylvania Senate Expense Reports Now Posted Online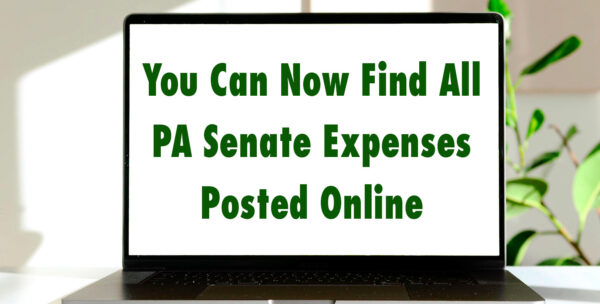 Pennsylvania Senate expense reports are now available to the public online, increasing transparency in state government.
The reports, available at www.pasen.gov/RTKL/monthlyExpenses.cfm, detail all expenses for each individual senator's office and institutional offices. Expense reports for July 2021 were posted this week, and the system will be updated with new reports every month going forward.
Expenses for each caucus service office are listed under the respective leader reports. Other categories of information are already available online.
Free Webinars Connect Military Veterans with Agriculture Business Funding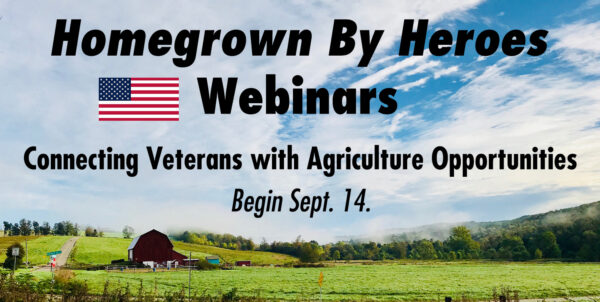 A free webinar series begins this month to connect military veterans who are considering starting or expanding an agriculture business with resources, funding and planning tools they need to succeed.
The first session will be held Sept. 14 from 7-8 p.m. and will cover grants, business planning and other resources. A web link or phone number to join the session can be obtained by contacting PA Preferred Program Manager Gwyn Rowland at RA-AgPaPreferred@pa.gov.
Future sessions will explore the PA Preferred Homegrown By Heroes program, which gives military veterans tools to brand their PA-made and PA-grown agricultural products for consumers who want to buy local and support veterans in their communities; sustainable agriculture opportunities through the PA Preferred Organic program; and other resources for transitioning, diversifying and expanding agricultural businesses.
National Childhood Cancer Awareness Month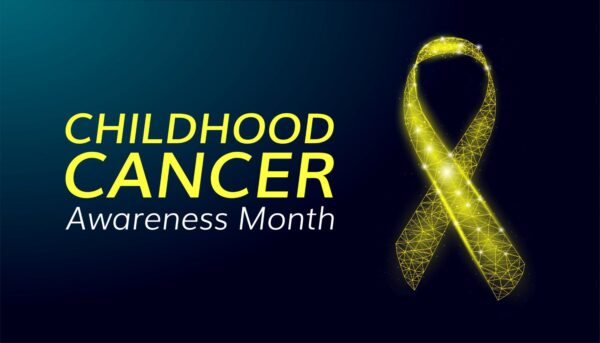 September is National Childhood Cancer Awareness Month. Childhood cancers take many forms, from blood disorders to various types of tumors and rare genetic diseases.
In recent years, the General Assembly created the opportunity for contributions to be used for pediatric cancer research. These contributions are deducted from a tax refund and may be made as a $5 contribution when renewing a driver's license or vehicle registration.
Out and About in the 30th
Honoring Our Very Own Miss Pennsylvania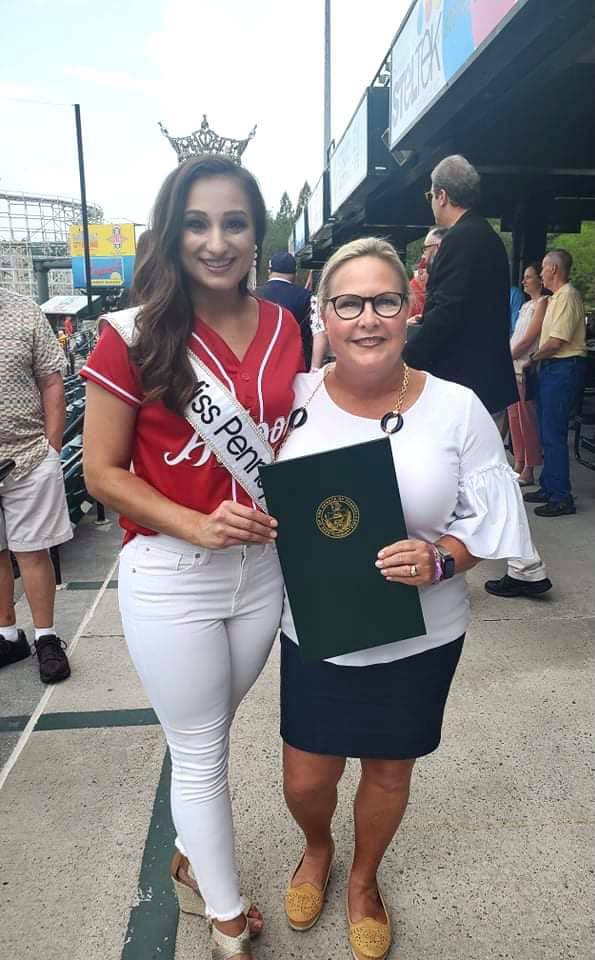 How great it was to have Miss Pennsylvania, Meghan Sinisi, throw out the first pitch at yesterday's Altoona Curve baseball game. I was honored to present her with a Senate citation for her recent achievement.
Mill Road Bridge
The Mill Road Bridge project restored the structurally deficient bridge with a 6-Ton weight limit to now safely carry heavier vehicles such as school busses, oil trucks and emergency vehicles. In order to save costs, the Licking Creek Township Supervisors removed the existing decking and installed the new deck.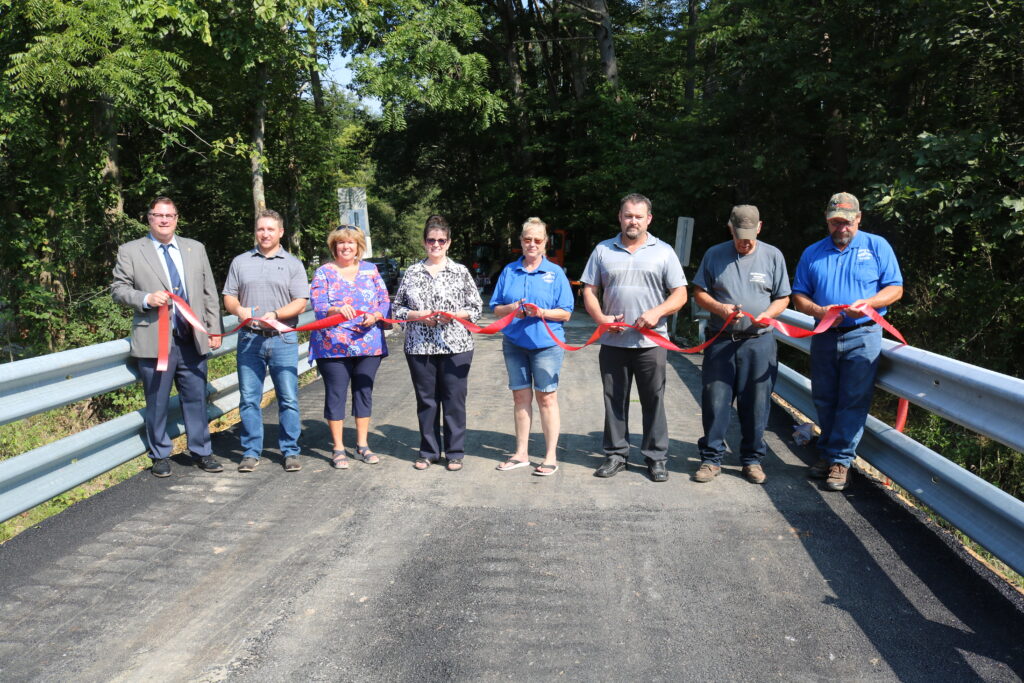 Pictured left to right: John Pecze, PennDOT; Joe Gato, Keller Engineers; Kathleen Gunnell, Senator Judy Ward's office; Bonnie Mellott Keefer, Rep. Topper's Office; Luanne Keebaugh, Licking Creek Secretary; Jason Gordon, Licking Creek Supervisors Vice Chair; Ronnie Swope, Licking Creek Township Supervisor; Edwin Swope, Licking Creek Township Supervisors Chairman.
60 Years of Penn-Mont Academy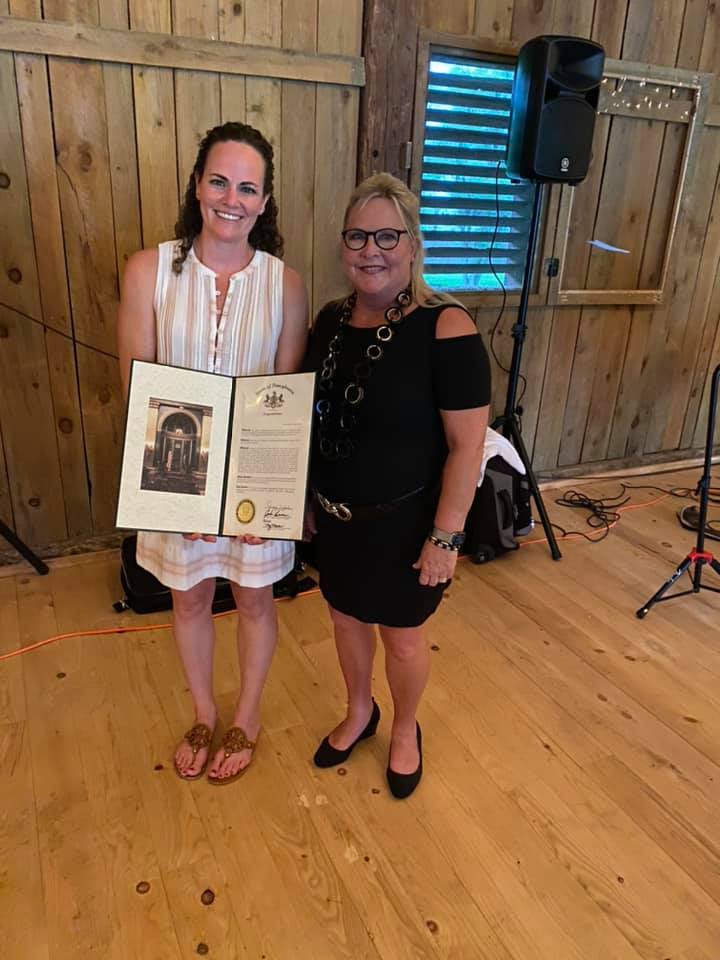 Penn-Mont Academy, located in Hollidaysburg, celebrated a big milestone! Andrea Seltzer-Okonak, Headmaster, accepted a Senate citation recognizing 60 years of educating children in our community.
50th Wedding Anniversary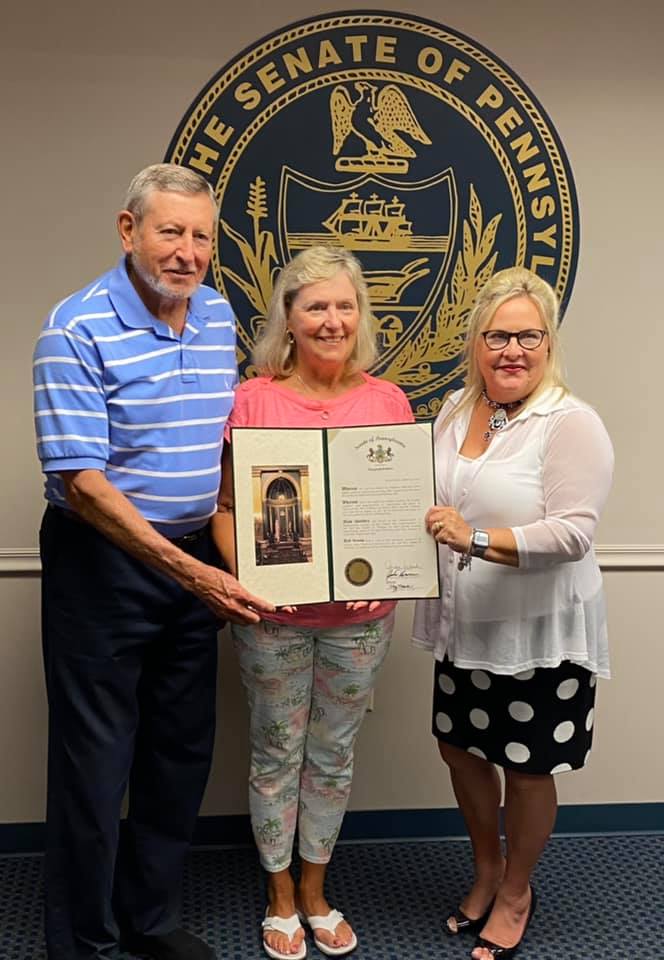 Congratulations to Bob and Sara "Sally" Williams who recently celebrated their 50th wedding anniversary.
Have a Happy Labor Day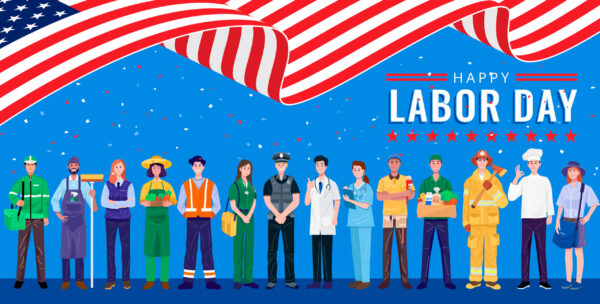 Workers across Pennsylvania and the U.S. had their lives disrupted during the pandemic, and many are still striving for a return to normalcy.
I hope you have a wonderful Labor Day weekend, as we celebrate the past contributions and hopeful future of the American worker.