In This Update:
Governor Vows to Veto Bill to Improve Government Transparency
Hearing Explores 2020 Election Issues
Guidance Available to Safely Reopen Pennsylvania Schools
Grants Available to Businesses for Hazard Pay
New Laws Support Job Creation, Child Safety, and More
---
Governor Vows to Veto Bill to Improve Government Transparency
Maintaining public access to information is critical during an emergency, so the Senate and the House of Representatives voted unanimously for a bill to restore transparency in state government last week. Unfortunately, Governor Wolf has vowed to veto this good-government reform.
The bill would have prohibited any governor from directing a state agency to ignore records requests during an emergency declaration, and also required the Office of Open Records to create guidelines to ensure state agencies could continue to respond to records requests while physical offices remained closed. All normal protections and exclusions to the Right to Know law would remain in place under the bill; it would only ensure that an emergency declaration isn't used as an excuse to delay or ignore records requests.
I am hopeful that the House of Representatives will begin the process to override the governor's veto and ensure the public can continue to access information about our state government during a disaster declaration.
Hearing Explores 2020 Election Issues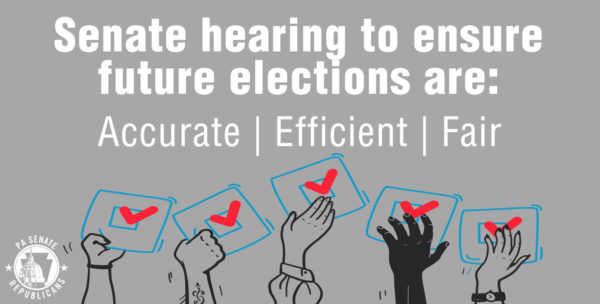 New voting machines, mail-in ballots, changing polling locations and last-second rule changes by the Wolf Administration created numerous issues during the 2020 Primary Election, including confusion among voters and long delays in reporting election results. The Senate State Government Committee held a hearing this week on these and other issues to ensure these problems do not create the same kind of chaos during the General Election in November.
The hearing included testimony from state and county election officials, as well as recommendations on possible actions the General Assembly could take to ensure future elections are efficient, accurate and fair.
The hearing presented an opportunity to seek clarity and receive answers to pressing questions raised by local residents to ensure the integrity of our elections process. I continue to receive questions from constituents regarding concerns with mail-in ballots and the security of the system.
You can view my questions here:
https://pasen.wistia.com/medias/y8xqtnzyhg
https://pasen.wistia.com/medias/01vrw4ixhx
Guidance Available to Safely Reopen Pennsylvania Schools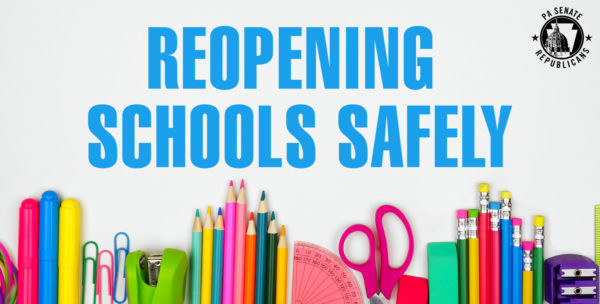 As many parents, teachers and administrators continue to prepare for the return to school in the fall, the state Department of Health and state Department of Education recently announced guidelines to safely reopen school buildings. The guidance includes recommendations for best practices on social distancing, health screenings, meals, extracurricular activities and more.
Under the new guidance, each school entity will determine whether classes will resume through in-person instruction, remote learning, or a combination of both. Questions and concerns about reopening plans should be directed to local school boards and other education entities.
Lawmakers approved $150 million in CARES Act funding to help schools navigate the challenges created by COVID-19.
Grants Available to Businesses for Hazard Pay
Businesses, healthcare non-profits, public transportation agencies and certified economic development organizations can apply now for grants to reimburse expenses from paying hazard pay to employees working in vital industries. Applicants can apply for grants of up to $1,200 per eligible employee for up to 500 employees.
Hazard pay would be available for the period from August 16 to October 24. Participants must apply by July 31 using the Electronic Single Application for Assistance located at www.esa.dced.state.pa.us.
Unfortunately, there are some that were ineligible, among them drug store workers. I co-signed a letter to the Wolf Administration expressing shock that workers at retail pharmacies didn't make the cut. I find it hard to believe that the program considers food retail facilities (grocery and convenience stores) an eligible industry but not pharmacies and drug stores. The employees of pharmacies / drug stores were just as much on the front line as employees in grocery stores during the COVID-19 pandemic and faced an equally high risk given that these businesses remained open during the emergency order when other businesses were closed.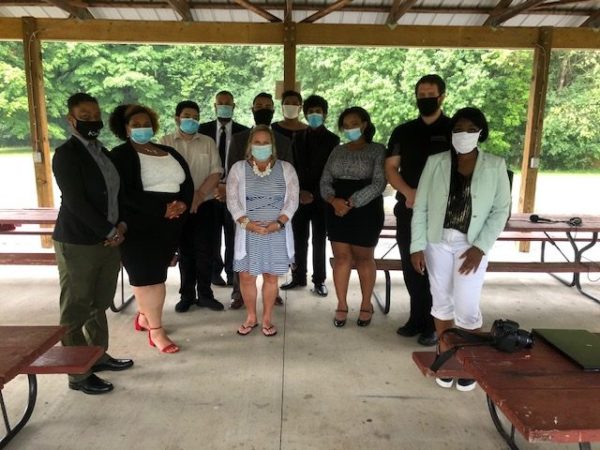 I had a great meeting with concerned citizens on quality-of-life issues and the importance of strengthening communities through the collaborative efforts of state government and community partnerships. The conversation focused on specific types of programs and resources that possess the potential to positively impact individuals from their childhood years through adulthood.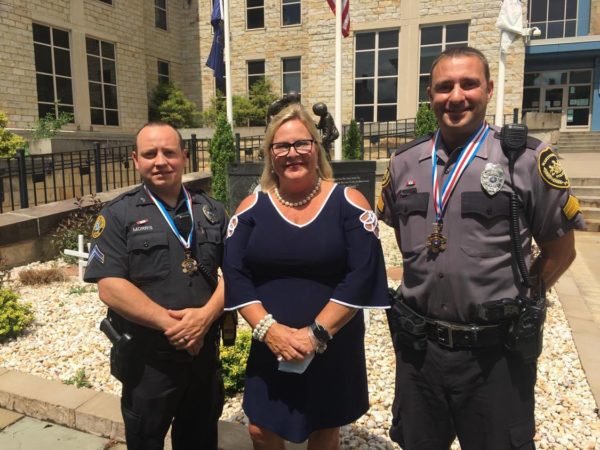 It was a true honor to present citations to two Blair County law enforcement officers at the Blair County Medal of Valor event hosted by the DA's office. Corporal Lance Morris of Roaring Spring Police Department and Sergeant Justin Davis of the Martinsburg Police Department received medals in recognition for extraordinary acts of valor and heroism. I am truly grateful for the men and women who serve and protect our communities.
New Laws Support Job Creation, Child Safety, and More
Several noteworthy bills that were approved by the Senate recently were signed into law this week, including: