In this Update:
Voter Verification Constitutional Amendment Passes PA Senate Committee
My Plan Requiring Deaths from Contagious Diseases to be Reported to Coroners Passes Senate Committee
Senate Committee Approves My Plan to Assist Human Service Agencies Recover from Pandemic
Senate Special Committee Releases Report on Election Reforms
Bill to Improve Safety in Daycare Facilities Approved by Senate
Senate Votes to Permit "Mixed Drinks to Go" Permanently and Enacts Other Steps to Help Hospitality Sector Employers
Legislation Preserving Nursing Home Visits During a Pandemic Approved by General Assembly
Senate Approves Bill Requiring Legislative Approval of RGGI Deal
Senate Observes Juneteenth End of Slavery
Happy Father's Day
Camp Anderson Highlights
Aiden Conese Visits the Capitol
---
Voter Verification Constitutional Amendment Passes PA Senate Committee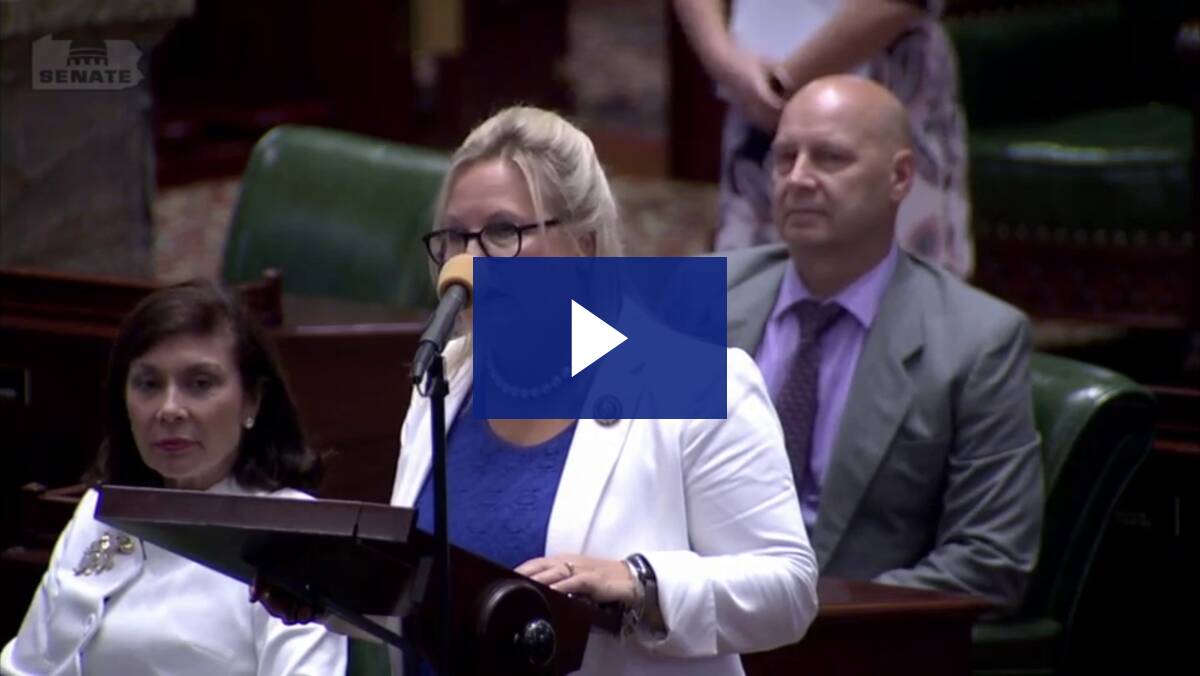 A plan I sponsored that will allow voters to decide if the Pennsylvania Constitution should be amended to require identification each time a voter casts a ballot was approved by the Senate State Government Committee. Election integrity has been eroded and it needs to be restored. Time and again, I hear from constituents who want to know why they need identification to buy cold medicine, but not to choose their next senator, township supervisor, judge, or president. Proposing that voters show verification not just the first time, but every time they vote, as a constitutional amendment allows Pennsylvanians to take the lead in how they want to further secure our election process.
Currently, voters are required to show identification the first time they vote at a polling place. Senate Bill 735 asks voters to decide if government-issued identification should be required every time a ballot is cast. The language must be passed in two consecutive legislative sessions, meaning the earliest the proposed amendment would reach voters for consideration is May 2023.
Unlike a piece of legislation, Constitutional Amendments do not need the governor's approval. Rather, the proposed amendment would go straight to the voters for their input. The bill will now be considered by the full Senate.
Allowing the voters to decide how they want to best secure their elections is not some nefarious plot as some would have you believe. Just as asking people to offer verification each time they vote is not an attempt to keep people away from the polls. I urge everyone to rise above that and not fall victim to outside influences trying to stir emotion. These are commonsense measures designed to restore confidence in our election system – a confidence that has been seriously eroded during the last several election cycles.
My Plan Requiring Deaths from Contagious Diseases to be Reported to Coroners Passes Senate Committee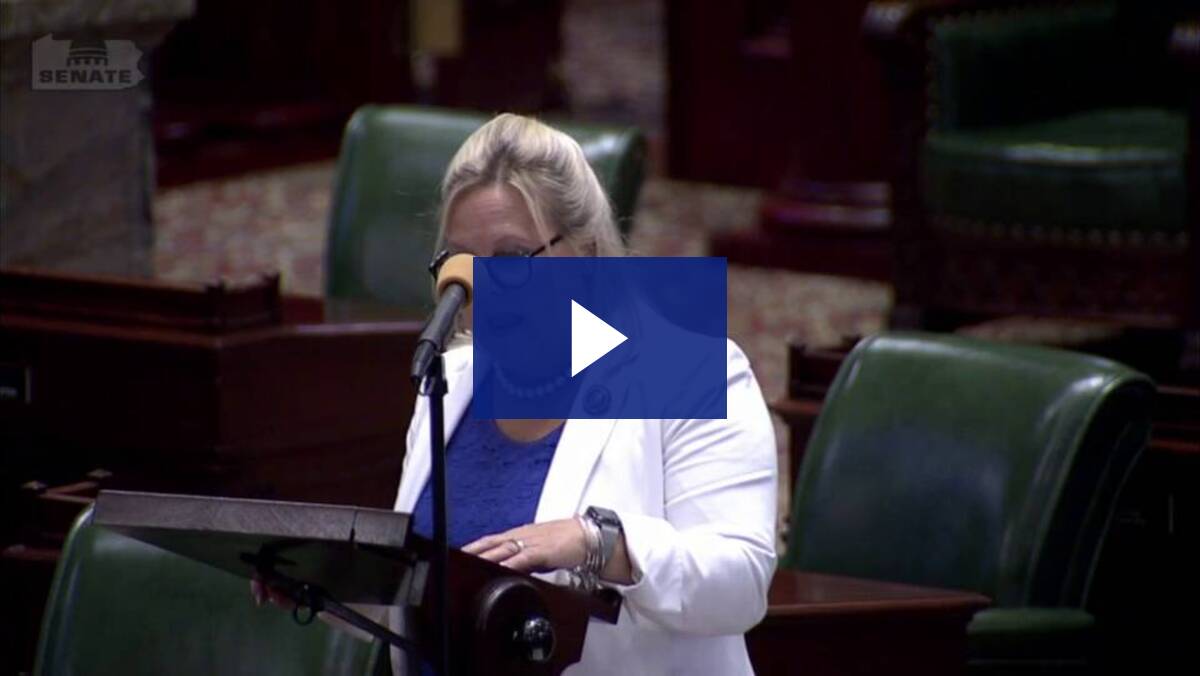 My bill that clarifies when deaths from a contagious disease must be reported to county coroners – including COVID-19 deaths – was approved by the state Senate Local Government Committee. We must have accurate reporting of the deaths and ensure the safety and wellbeing of our communities. Coroners are tasked to work closely with the community – specifically health care professionals and law enforcement – to provide answers to grieving families. This bill will allow them to fully perform the duties they were elected to do.
Senate Bill 327 makes it clear that certain circumstances of death shall be reported to the coroner, including any disease constituting a health disaster emergency or pandemic. A similar bill passed both the Senate and the House with large bipartisan majorities only to be met by Governor Wolf's veto pen.
Senate Committee Approves My Plan to Assist Human Service Agencies Recover from Pandemic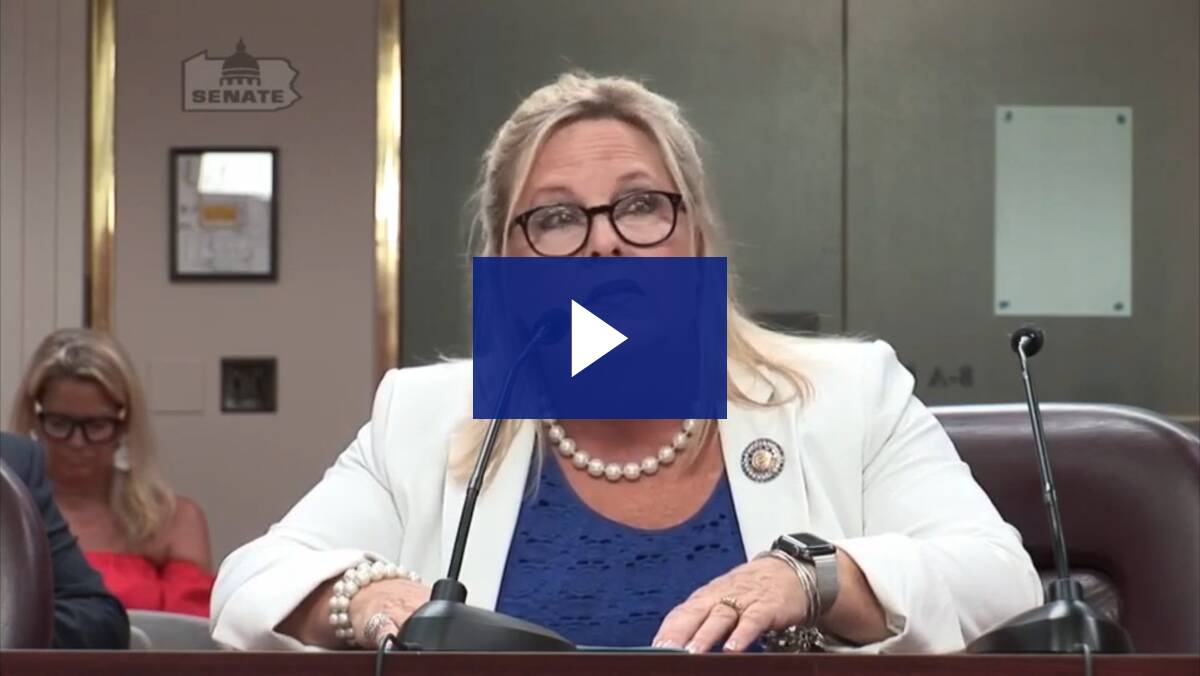 Legislation I introduced to help Pennsylvania's community-based nonprofit organizations recover from the effects of the COVID-19 pandemic was approved this week by the Senate Community, Economic and Recreational Development Committee.
Senate Bill 594 would create the Nonprofit Economic Emergency Delivery System (NEEDS) Grant program, supplemented with new federal funding. The legislation aims to create a new statewide competitive grant program for human service organizations that were adversely impacted by the Coronavirus.
The NEEDS Grants Program would provide much-needed funding for eligible community-based human services nonprofit organizations that have suffered during the COVID-19 crisis either by closure, increased need for services or loss of revenue. The program would dedicate $200 million of the federal American Rescue Plan funding the Commonwealth received to help these programs that are vital to the health of our communities.
As part of the legislation, eligible organizations include childcare centers, health clinics, substance abuse treatment facilities, domestic violence operations, food banks and, among other entities, workforce training centers. If these critical services fails, there would be no way to deliver many critical services to our communities. After the unanimous committee vote Tuesday, the bill advances to the full Senate for consideration.
Senate Special Committee Releases Report on Election Reforms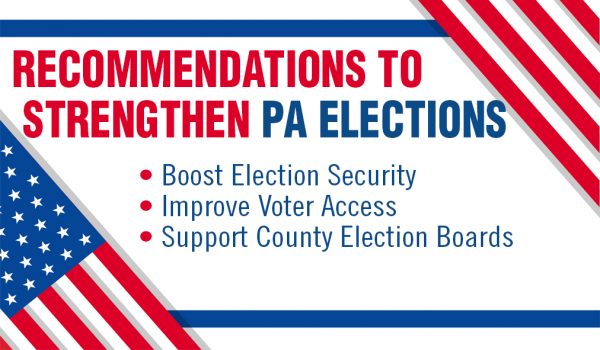 The Special Committee on Election Integrity and Reform released a report this week detailing its findings and recommendations to strengthen Pennsylvania's election system.
The committee was created to review all aspects of the November 2020 election. The panel held a series of hearings in March and April to review election security and best practices in other states, state and local perspectives on the administration of elections, and the management of elections in Allegheny and Philadelphia counties.
In addition, the committee created a webpage to encourage Pennsylvanians to share their experiences in the 2020 General Election. The survey generated more than 20,000 responses.
The testimony and feedback received by the committee led to a series of recommendations to boost election security, improve voter access and support counties in the efficient administration of elections. You can read the report here.
Also being considered in the House of Representatives is House Bill 1300. This week it was voted out of the House State Government Committee. It would call for an expansion of Pennsylvania's voter identification law; require regular election audits; improve election uniformity among the 67 counties as required by the Pennsylvania Constitution; enhance certification processes for all machines used in elections; require signature verification using ballot scanning equipment for mail-in and absentee ballots; improve lists of registered voters; conduct an audit of every election for, among other things, to improve security of our elections. Specifically, registered voters would receive through their counties' durable scannable voter registration cards, much like the identification cards currently issued to voters, to be used when voting in person. A full description of this bill can be found at http://www.pahousegop.com/votingrights
Bill to Improve Safety in Daycare Facilities Approved by Senate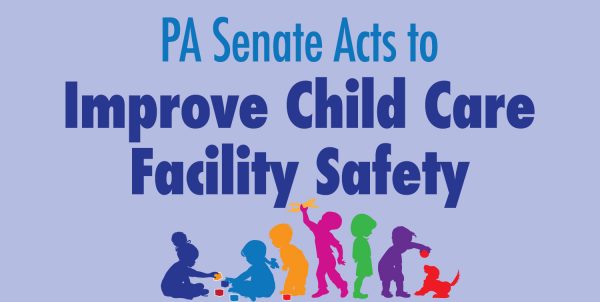 The Senate approved a bill to improve safety in state-regulated daycare facilities and sent the bill to the House of Representatives for consideration.
The legislation designates the locations where smoke detectors must be installed and requires that they are interconnected so that if one is triggered, they all go off.
The measure was introduced in response to a tragic fire that claimed the lives of five young children in Erie on August 11, 2019. Only one smoke detector was found in the building and it was located in the attic.
Senate Votes to Permit "Mixed Drinks to Go" Permanently and Enacts Other Steps to Help Hospitality Sector Employers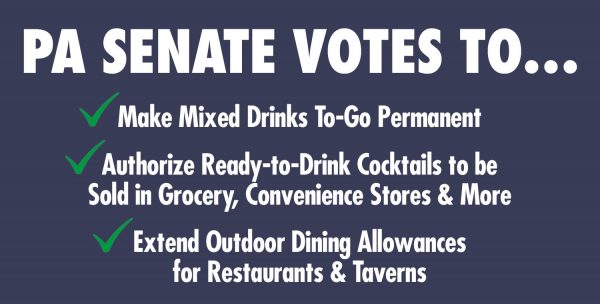 In the ongoing effort to help employers in the hospitality sector get back on their feet following COVID-19 restrictions, the Senate voted to permanently allow "mixed drinks to go" from restaurants and hotels, extend sales for outdoor dining and expand the number of locations where ready-to-drink mixed drinks can be sold.
The measure makes permanent the sale of mixed drinks to-go by restaurant or hotel licensees for off-premises consumption. Originally, mixed drinks to-go was a temporary measure allowed during the COVID-19 disaster declaration. It also allows larger outdoor dining spaces, off-premises catering permits without restrictions, and more.
It also allows a different type of product called Ready-to-Drink cocktails to be sold by restaurants, grocery stores, convenience stores, and beer distributors for off-premises consumption. Restrictions are set on alcohol-by-volume content and container size.
Legislation Preserving Nursing Home Visits During a Pandemic Approved by General Assembly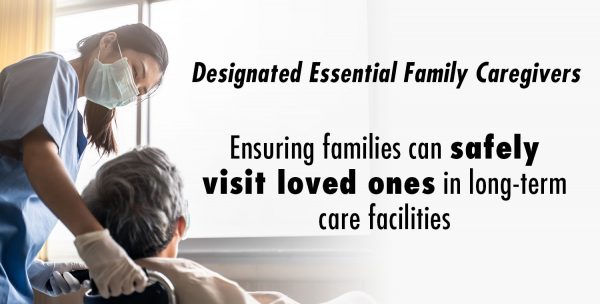 Legislation to allow family members to safely visit long-term care facilities as essential caregivers for Pennsylvania's most vulnerable citizens was approved by the Senate and sent to the governor for enactment.
During the pandemic, nursing homes and other long-term care facilities were closed to visits from friends and family. The prolonged separation negatively impacted the overall health and well-being of facility residents.
The measure would allow a designated essential family caregiver to be named for each resident of a licensed long-term care facility. Protocols would be put in place to screen the essential caregivers and require additional steps to gain access to the facilities.
Senate Approves Bill Requiring Legislative Approval of RGGI Deal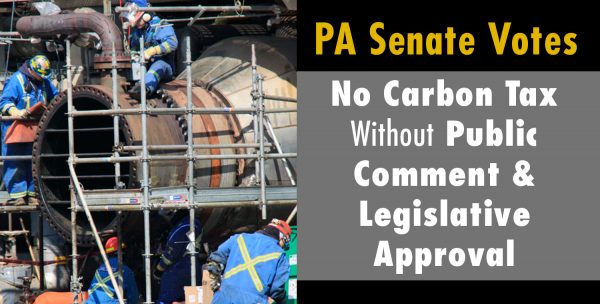 In a bipartisan vote, the Senate approved legislation requiring legislative approval before Gov. Tom Wolf can have Pennsylvania join the Regional Greenhouse Gas Initiative (RGGI).
Under the measure, the Pennsylvania Carbon Dioxide Cap and Trade Authorization Act, the state Department of Environmental Protection (DEP) would be required to provide a public comment period of at least 180 days and hold a minimum of four public hearings in locations that would be directly affected economically by the proposal.
Following the public comment period, DEP would be mandated to submit a report to the House and Senate Environmental Resources & Energy committees detailing the specific economic and environmental impacts that joining RGGI and imposing a carbon tax would have on affected communities, the PJM Interconnection region and ratepayers. The bill was sent to the House of Representatives for consideration.
Senate Observes Juneteenth Holiday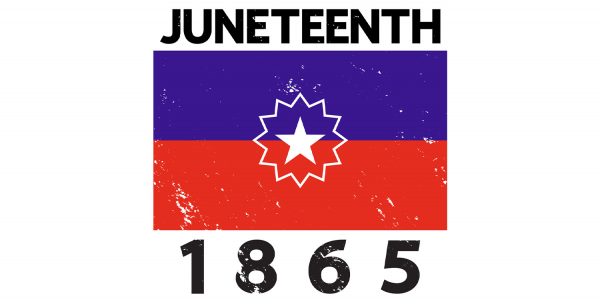 Senate offices will be closed Friday to observe the Juneteenth holiday.
The June 19 holiday honors the end of slavery by commemorating the date in 1865 when Union Army Gen. Gordon Granger arrived in Galveston, Texas, and announced to enslaved African Americans that the Civil War had ended and they were free. Granger's proclamation came more than two years after President Abraham Lincoln issued the Emancipation Proclamation.
Happy Father's Day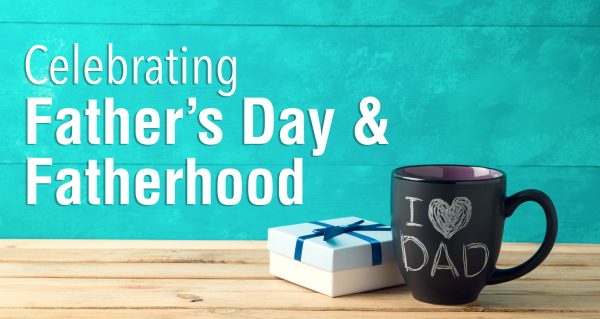 To all fathers: I hope you have a wonderful Father's Day this Sunday. This is the day when we celebrate your essential role in family and community. May your day be filled with love and gratitude.
Camp Anderson Highlights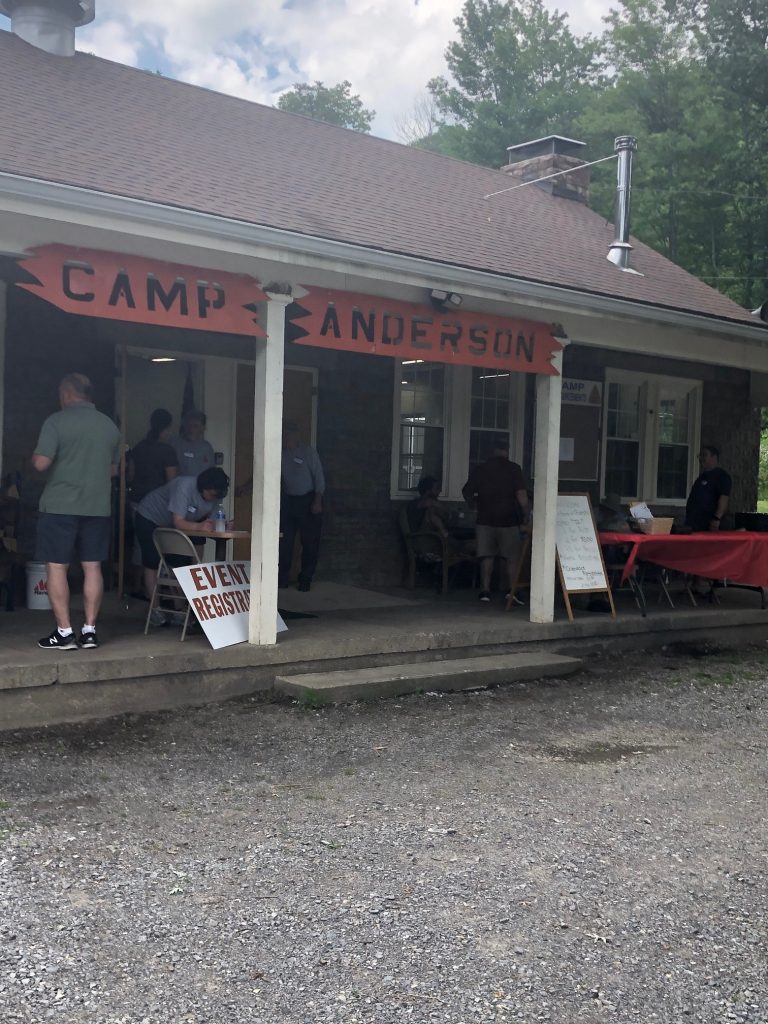 I had the pleasure to visit Camp Anderson a beautiful property located in Tyrone, Blair County, that was established as a Scout camp in 1926 thanks to the generosity of John G. Anderson, a Tyrone businessman. Currently operated by Camp Anderson Corporation, a private non-profit group, the facility offers great tent camping cabins that can be used for camping weekends, group training programs, fishing, reunions, and other events. It is a wonderful natural asset for the community.
Aiden Conese Visits the Capitol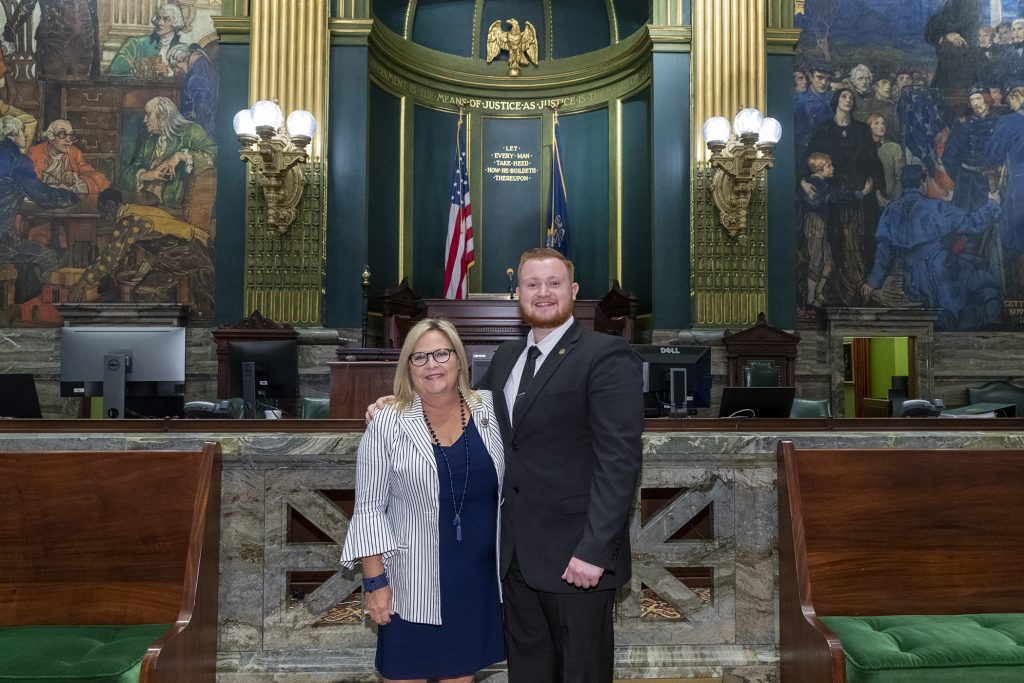 I had the honor of introducing Aiden Conese on the Senate floor this week. Aiden is a summer intern in my Blair County district office.
Our paths first crossed two years ago at the Huntingdon County fair and we became fast friends. He is a recent graduate of Huntingdon Area Senior High School. Aiden is enrolled at Penn State, Altoona Campus, for the fall semester to study Criminal Justice with a plan to minor in Political Science. In his spare time Aiden enjoys karate and reading his sisters old political science textbooks.