In this Update:
Application Deadline Extended to Dec. 31 for Property Tax/Rent Rebate
Watch Out for This Rental Scam
General Fund Tax Revenues Below Estimate Again
Helping Nonprofits and Local Governments Stretch Investment Dollars
June is National Men's Health Month
Bicyclists and Motorists Must Safely Share the Road
Out and About in the 30th
---
Application Deadline Extended to Dec. 31 for Property Tax/Rent Rebate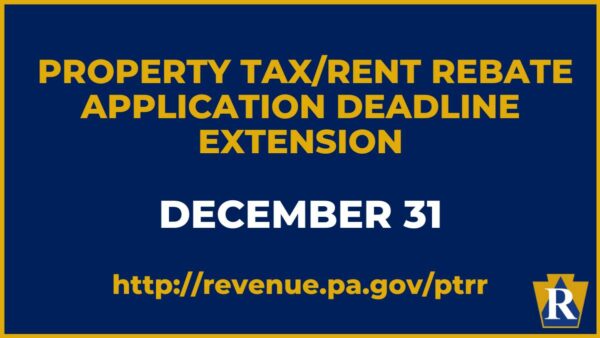 The deadline for older adults and Pennsylvanians with disabilities to apply for rebates on rent and property taxes paid in 2022 has been extended from June 30 to December 31, 2023.
Claimants of the Property Tax/Rent Rebate (PTRR) program are encouraged to file their rebate applications online by visiting mypath.pa.gov. This online filing option makes it easy for the Pennsylvanians who annually benefit from the program to submit their applications.
The rebate program benefits eligible Pennsylvanians age 65 and older; widows and widowers age 50 and older; and people with disabilities age 18 and older. Currently, the income limit is $35,000 a year for homeowners and $15,000 annually for renters, and half of Social Security income is excluded.
Since the program's inception in 1971, it has delivered more than $8 billion to older and disabled adults across the Commonwealth. The Property Tax/Rent Rebate program is funded by the Pennsylvania Lottery and revenue from slots gaming.
About the Property Tax/Rent Rebate program
The current maximum standard rebate is $650, but supplemental rebates for certain qualifying homeowners can boost rebates to $975. The Department of Revenue automatically calculates supplemental rebates for qualifying homeowners.
Eligible applicants should check the Property Tax/Rent Rebate program page on the Department of Revenue's website for more information, including detailed instructions on the program, the paper application form, and contact information for those with questions. It's free to apply for a rebate, and applicants are reminded that free assistance is available at hundreds of locations across the state, including Department of Revenue district offices, local Area Agencies on Aging, senior centers, and state legislators' offices, including all of my district office locations.
Applicants must reapply for rebates every year because rebates are based on annual income and property taxes or rent paid in each year. Spouses, personal representatives, or estates may file rebate claims on behalf of claimants who lived at least one day in 2022 and meet all other eligibility criteria.
Watch Out for This Rental Scam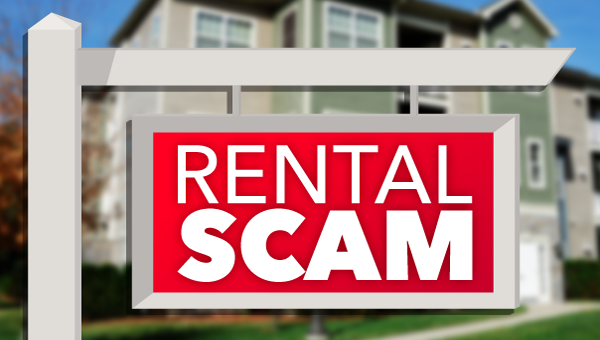 The Pennsylvania Office of Attorney General warns people in the market for rental properties to be aware of sophisticated scammers placing fake ads and altering existing, legitimate ads to obtain personal information, security deposits and rent payments.
Protect yourself by being wary if you cannot physically see the property. Avoid purchasing gift cards for payment, providing your Social Security number without verifying with whom you are dealing and wiring payments for application, security deposit or first month's rent.
Read more here.
General Fund Tax Revenues Below Estimate Again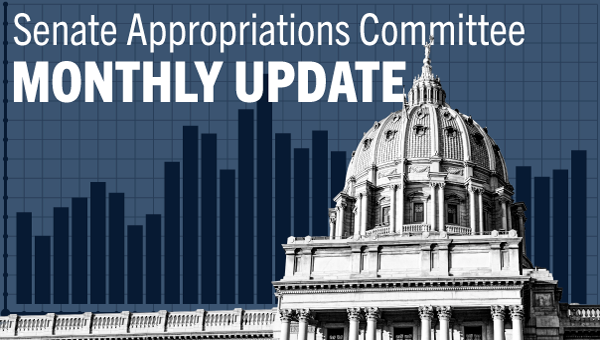 Each month, the Senate Appropriations Committee prepares an update about the state's financial health. The most recent report shows that General Fund tax revenues were $90.7 million lower than the monthly estimate in May, the third time in the past five months that tax revenues have failed to meet projections.
For the 2022-23 Fiscal Year, which ends June 30, Personal Income Tax collections are nearly $400 million below projections.
The full update, including the monthly revenue report, is available here.
Helping Nonprofits and Local Governments Stretch Investment Dollars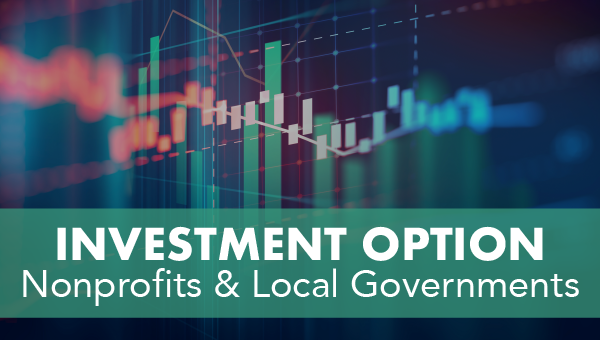 Nonprofits and local governments can take advantage of an investment opportunity offered by the Pennsylvania Treasury Department. The program, known as INVEST, is similar in concept to money market funds and offers two short-term pools and custom options.
For more than 30 years, INVEST's performance has matched or exceeded that of its competitors. INVEST offers daily liquidity and has no minimum balance requirements. More than 260 entities – like townships, school districts, counties, volunteer fire companies, libraries and other nonprofit organizations – have assets of approximately $1.317 billion in INVEST portfolios.
If you would like more information about INVEST, please call 866-300-4603, email investoperations@patreasury.gov, or visit patreasury.gov/invest.
June is National Men's Health Month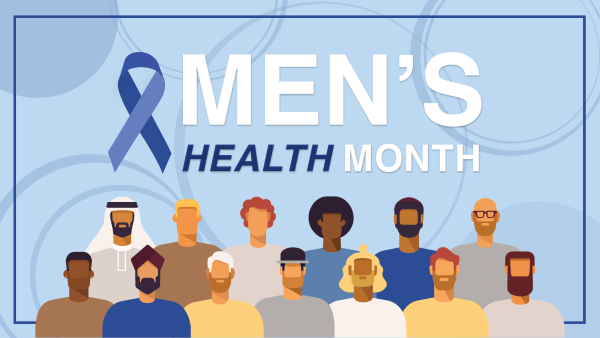 To promote awareness of preventable health problems, June is recognized as National Men's Health Month. It also encourages early detection and treatment of diseases including cancer, heart disease and depression among men who may be more hesitant to make doctor visits a priority.
Medical experts say men should focus on taking care of their bodies by eating right, exercising and working to prevent disease. Part of being healthy is also cultivating good mental health.
For the benefit of men and all Pennsylvanians, Senate Republicans will continue to press for mental health funding that stimulates innovation within our health care delivery system.
Bicyclists and Motorists Must Safely Share the Road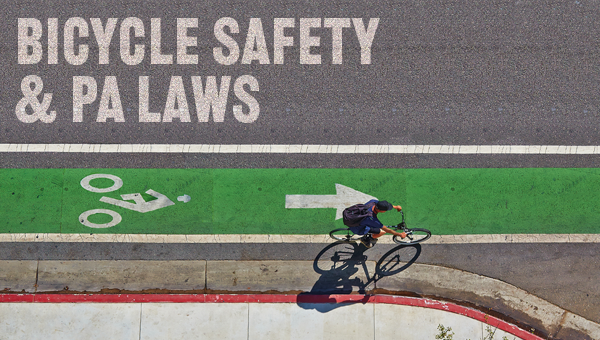 Bicyclists and motorists, who both have the right to use Pennsylvania roads, also have responsibilities to ensure everyone gets home safely.
Both parties must obey all the rules of the road and allow at least 4 feet of separation when passing. Motorists are allowed to overtake a bicycle in a no-passing zone, provided they leave a 4-foot clearance.
Learn more about Pennsylvania's bicycle laws.
Out and About in the 30th
I had the pleasure of meeting Elizabeth Kalista and her parents, Walt and Nicole, and presenting her with a certificate recognizing her First Place Youth Award in the kindergarten category of the Litter Hawk Contest sponsored by Keep PA Beautiful. Her winning entry was chosen from over 800 submissions in this category. She and her family visited the Capital in Harrisburg on May 6, 2023, where Elizabeth's winning poster board was on display. The Kallista's live in Hollidaysburg where Elizabeth and her sister, Abby, attend Holy Trinity Catholic School. Congratulations to Elizabeth on a great job!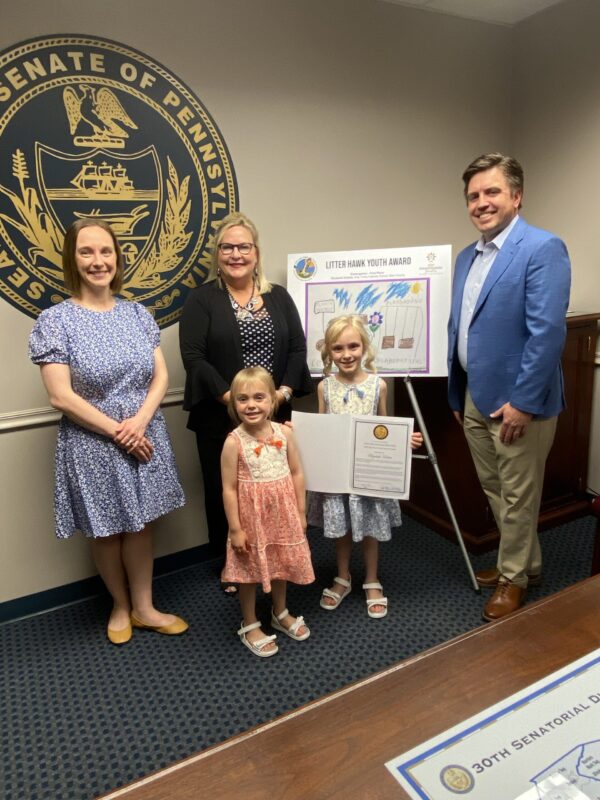 If you are not already subscribed to this newsletter please sign up here.