In This Update:
First Counties Moving to Green Phase of COVID-19 Reopening
Senate Will Convene to Work on 2020-21 State Budget, COVID-19 Funding
New Helpline Established for PUA Claimants
License to Carry Firearm Permits Extended to July 31
New Guidelines Released for FBI Background Checks
---
First Counties Moving to Green Phase of COVID-19 Reopening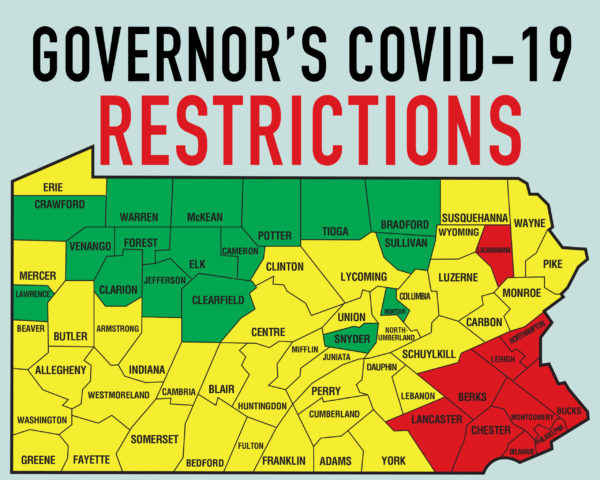 The first 17 counties in the state will move from the yellow phase of reopening to green on Friday, and eight more counties will also move from red to yellow. All other counties in the red phase are expected to move to yellow by June 5.
The green phase of reopening allows all businesses to conduct in-person operations as long as the businesses follow guidelines from the U.S. Centers for Disease Control and the Pennsylvania Department of Health.
The yellow phase of reopening allows businesses with in-person operations to open with strict health guidelines and building safety orders in place to reduce the risk of infection. Telework must still continue where feasible. Schools closures and restrictions on congregate care, prison visits and large gatherings of more than 25 people will remain in place. Indoor recreation, health and wellness facilities and entertainment venues will remain closed, and restaurants and bars will still be limited to carry-out and delivery only.
While we all agree that protecting lives is our top priority, I am still pushing to protect livelihoods as well by allowing more businesses to reopen safely under the guidance of state and national health agencies. I have supported passage of bills in recent weeks that would allow more industries to open and to give counties a stronger role to play in deciding when it is safe to reopen, but Governor Wolf has vetoed every attempt to safely reopen the state's economy on a more reasonable schedule.
Senate Will Convene to Work on 2020-21 State Budget, COVID-19 Funding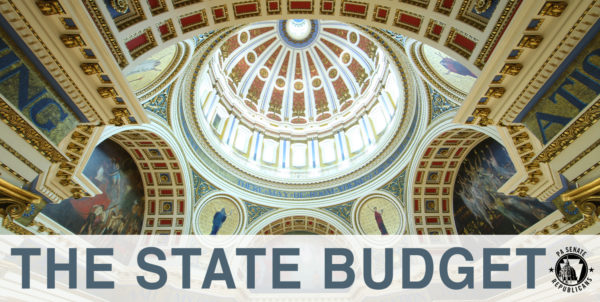 The Senate will reconvene this week to focus on ensuring funding is available in the months ahead to support critical programs and services affected by COVID-19. In addition to working on the state budget, lawmakers are expected to consider legislation related to federal funding that was distributed to the state from the Coronavirus Aid, Relief, and Economic Security (CARES) Act.
All committee activity, floor debates and votes will be streamed live at www.pasenategop.com.
New Helpline Established for PUA Claimants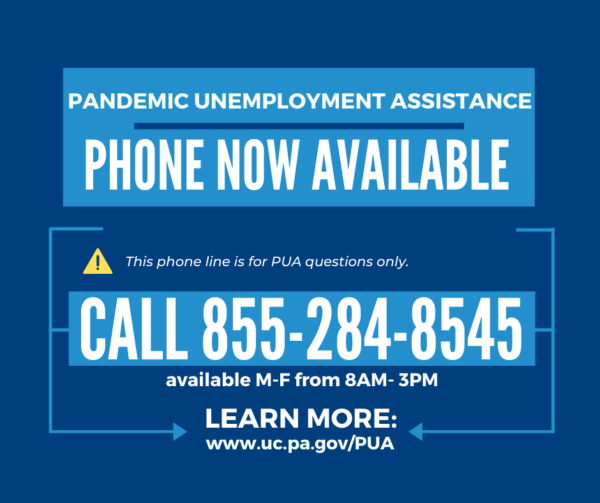 The Department of Labor and Industry recently opened a new phone line to help Pennsylvanians who have questions or concerns pertaining to the Pandemic Unemployment Assistance (PUA) program. Claimants can call 855-284-8545 for assistance from 8 a.m. to 3 p.m., Monday through Friday. Claimants can also get help via email at UCPUA@pa.gov.
The new helpline is for PUA claimants only. Individual who have questions about the state's regular Unemployment Compensation program can call 888-313-7284 or email UChelp@pa.gov.
License to Carry Firearms Permits Extended to July 31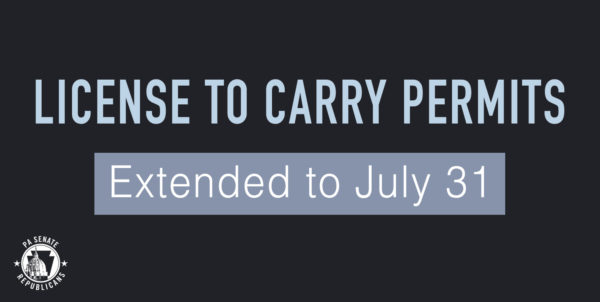 Individuals who have a license to carry firearms permit that expired on or after March 19 will now have their permits extended until July 31. The extension will give Pennsylvanians additional time to renew permits since many county courthouses and sheriff's offices are closed or limiting services during COVID-19.
More information from the Pennsylvania State Police on carrying firearms is available here.
New Guidelines Released for FBI Background Checks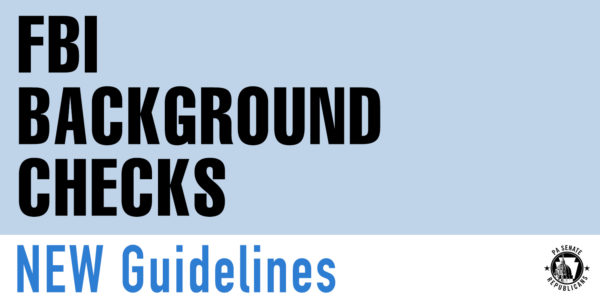 Many individuals who are required to complete a Federal Bureau of Investigation (FBI) background check as a condition of employment have run into problems due to a lack of available fingerprinting services during the COVID-19 pandemic. I supported a new law the Senate approved in April that extends the time period for workers to complete background checks.
New guidance from the Department of Human Services offers more information about mobile fingerprinting, treatment of new hires, special requirements for child care employees, renewals, recertification and more.