Members of the Senate and House send letter to US Attorney Barr regarding Governor Wolf Policies
Senate Approves Bill Requiring Reporting of COVID-19 Cases
Senators Call for Auditor General to Examine DCED's COVID-19 Response
My Legislation to Increase Psychological Services on its way to the Governor
Senate Approves Emergency COVID-19 Measures for Child Care Employees
Senate Passes New Safety Measures for Child Care Facilities
DOH Sets Standards for Resumption of Elective Surgeries, Procedures
Legislation Would Provide Long-Term Authorization of Remote Notarizations
Food Recovery Infrastructure Grant Program Expanded
Additional Funding Will Support Seniors During COVID-19 Pandemic
---
Members of the Senate and House send letter to US Attorney Barr regarding Governor Wolf Policies
I was pleased to sign on to this letter. This unprecedented public health emergency has tested our Commonwealth's resilience in many ways. But just as the emergency has tested the resilience of our citizens, so too has it tempted the authority of our Executive. Overbroad limitations on commerce have unduly paralyzed regions of Pennsylvania, the Second Amendment rights of citizens have been impacted, and many fear that their rights to worship will remain constrained. Certainly we recognize the reasonableness of temporary restrictions to preserve public safety, but we also are vigilant in defending against the encroachment on inviolate constitutional rights. Click here to read letter.
Senate Approves Bill Requiring Reporting of COVID-19 Cases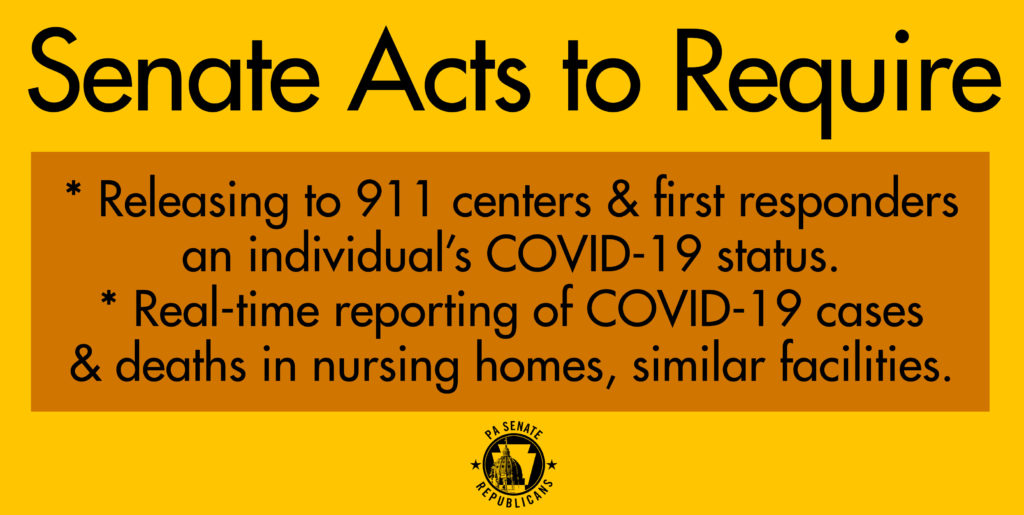 This week the Senate approved legislation I strongly supported that would require the state to notify local first responders of COVID-19 cases in their communities.
Senate Bill 1110 would require the Department of Health or local health authority to release to 911 centers, police, fire, coroners and EMS personnel an individual's communicable disease status when the disease is the subject of an emergency disaster proclamation by the Governor. The information must be relayed within 24 hours of the department receiving information of a confirmed case of a communicable disease.
This is crucial during our COVID-19 public health emergency because local emergency responders do not have enough Personal Protective Equipment to use when responding to calls. Senate Bill 1110 would help them better prioritize and target the use of that equipment so they can protect themselves in situations where they know they will be exposed to COVID-19 on the job.
The bill also requires real-time reporting of COVID-19 cases and deaths in Pennsylvania's nursing and personal care homes and assisted living facilities.
More than 60 percent of COVID-19 deaths in the Commonwealth have occurred in nursing homes, assisted living facilities and personal care homes. Pennsylvania has approximately 700 nursing homes with more than 88,000 beds and more than 1,200 licensed personal care homes serving approximately 46,500 residents.
My Bill to Increase Access to Psychology Services Sent to the Governor
My bill Senate Bill 67 would allow Pennsylvania to join the Psychology Interjurisdictional Compact (PSYPACT) to allow telepsychological practice across state lines.Each state has its own licensing laws and rules which vary considerably, making it extremely difficult for a person to obtain a license to practice in several states
Ensuring patients have access to psychological services is a serious concern during the pandemic, but without this bill, it will continue to be a challenge long after the public health emergency is over. I am thankful that we are making strides to ensure more patients can access the services they need, especially in rural areas like mine where distance and a lack of providers creates significant barriers to care. Press release.
Senators Call for Auditor General to Examine DCED's COVID-19 Response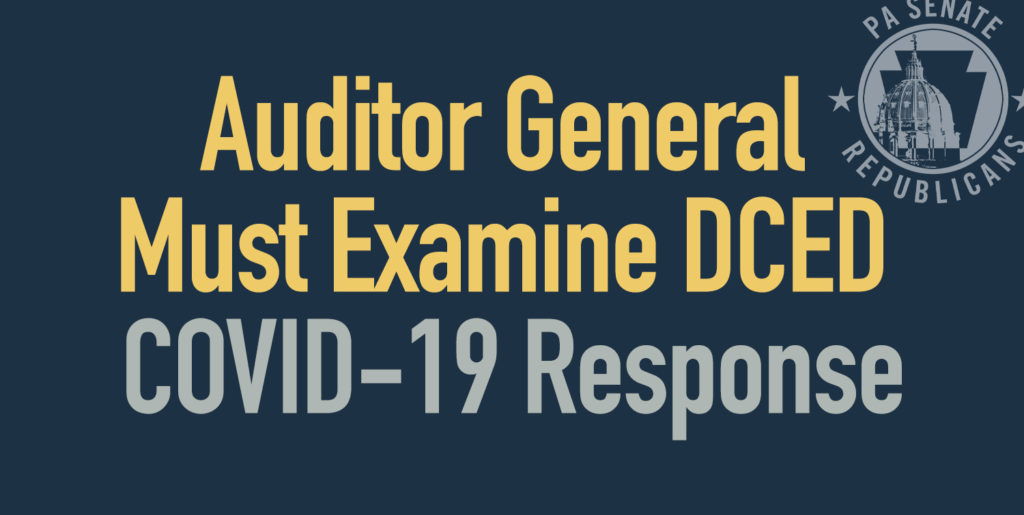 The Wolf Administration has been widely criticized for its handling of the waiver process for businesses that wished to stay open during the shutdown of businesses not deemed life-sustaining. Questions have also been raised about why the Administration's list of business closures was more restrictive than federal guidelines.
I recently joined many of my colleagues in calling for Auditor General Eugene DePasquale to immediately conduct an audit of the Department of Community and Economic Development to shine a light on these issues and explain why more than 1.6 million Pennsylvanians were forced into the Unemployment Compensation system – more than every state except California.
The text of our letter to the Auditor General is available here.
Limited Number of Outdoor Activities to Reopen Friday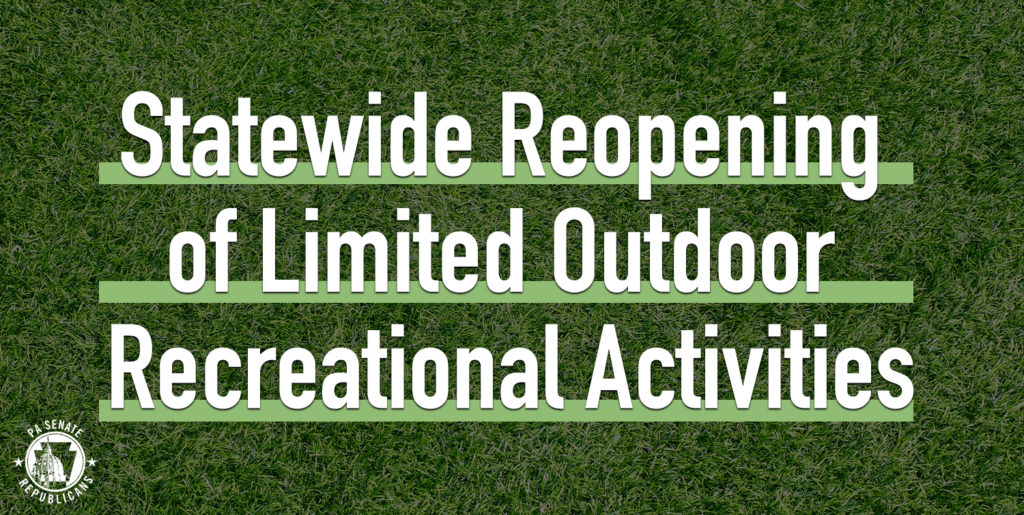 Several outdoor activities like golf and camping that have been shuttered by the COVID-19 outbreak will be authorized to reopen on Friday, May 1 with proper safety protocols in place.
Golf courses, marinas, guided fishing trips and privately owned campgrounds may reopen statewide on Friday and are required to follow updated life-sustaining business guidance. More information for outdoor recreational industries is also available in a FAQ issued by the state. Campgrounds in state parks will remain closed through Thursday, May 14.
Additional information about the reopening of recreational facilities is available here.
Senate Approves Emergency COVID-19 Measures for Child Care Employees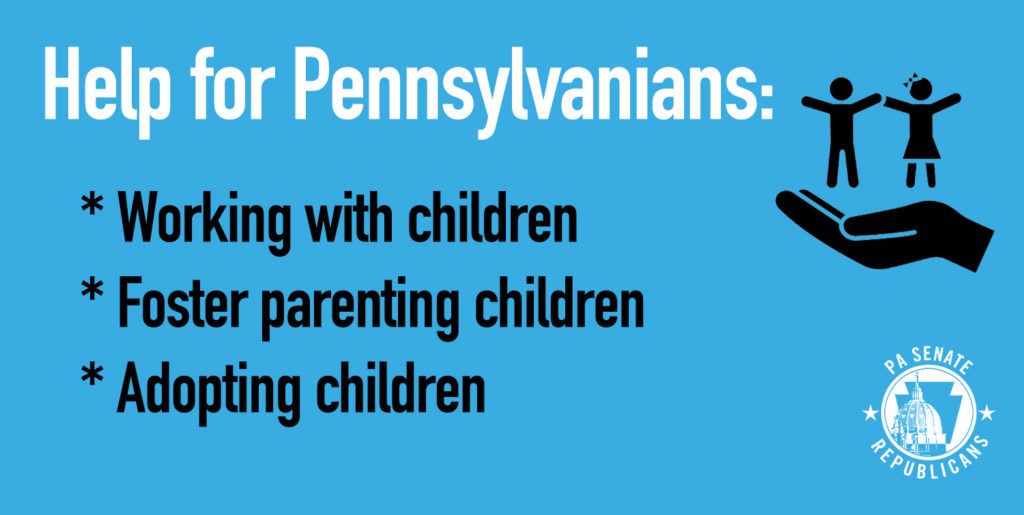 Many employees who work with children are unable to complete the necessary FBI criminal background checks due to the COVID-19 pandemic. I supported a bill this week that would allow them to continue to work safely.
The bill would extend the amount of time employees have to recertify background checks until December 31 and create different criteria for initial applicants to work on a temporary basis. More information about the bill is available here.
Senate Passes New Safety Measures for Child Care Facilities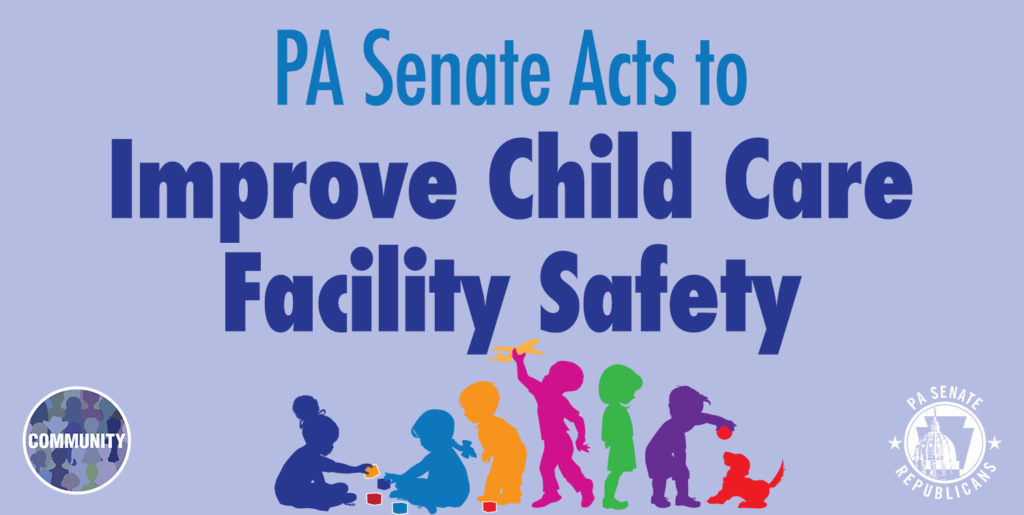 A pair of bills approved by the Senate this week would improve the safety of all child care facilities in Pennsylvania by strengthening smoke detector requirements. The measures would require smoke detectors in child care facilities on each floor and in the basement with a system that is interconnected so if one alarm is triggered, all of the alarms go off.
The bills were passed in response to a tragic fire at a home day care facility in Erie that claimed the lives of five young children. More information about the measures is available here.
DOH Sets Standards for Resumption of Elective Surgeries, Procedures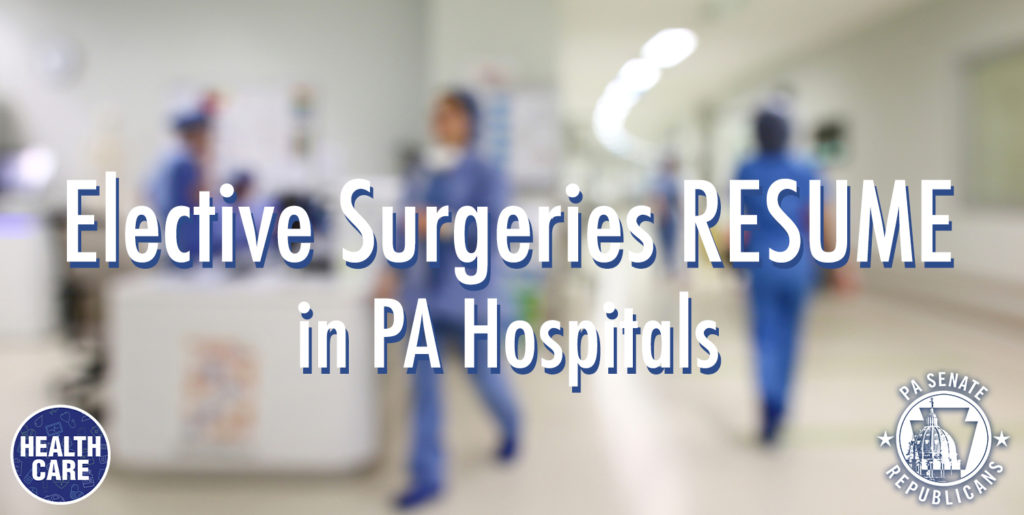 The Department of Health issued guidelines on Monday to allow hospitals and ambulatory surgery facilities to resume elective surgeries and admissions.
Under the guidelines, those facilities will be allowed to move forward with elective procedures as long as the safety of patients and staff is not placed in jeopardy and they have the resources in place to address potential COVID-19 emergencies. Hospital Guidelines ASF Guidelines
Legislation Would Provide Long-Term Authorization of Remote Notarizations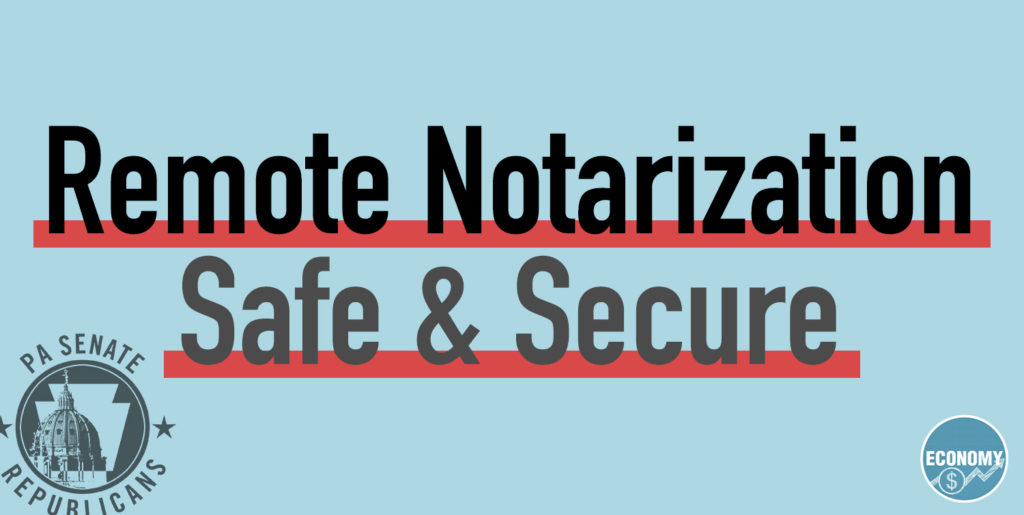 Earlier this month, the Senate passed legislation that was signed into law to authorize remote notary services for up to 60 days after the COVID-19 emergency declaration ends. Legislation approved by the Senate this week would allow the notarization process to be completed remotely on a long-term basis.
The bill would bring Pennsylvania in line with other states that have modernized laws pertaining to notarizing documents. More information about the bill is available here.
Food Recovery Infrastructure Grant Program Expanded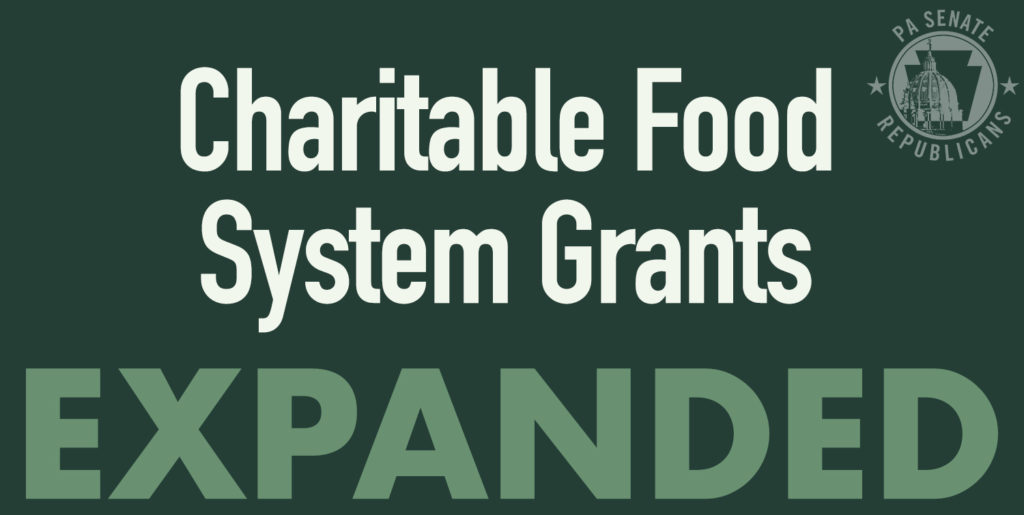 A critical grant program that supports charitable food organizations has been expanded to help meet the needs of state residents.
The $4 million Food Recovery Infrastructure Grant Program is intended to help charitable food systems such as food banks. The DEP expanded the list of organizations that charitable food systems may partner with beyond retailers and wholesalers to include farms, processors and cooperatives.
Applications are being accepted now through May 8. More information about the program and the application process is available here.
Additional Funding Will Support Seniors During COVID-19 Pandemic
The CARES Act approved by Congress will provide an additional $34 million to support programs for older Pennsylvanians, including home-delivered meals, home- and community-based services, long-term care and family caregiver support.
The programs supported by the funding will meet many of the most pressing needs of seniors, including transportation, care management, caregiver training and counseling, and information and referral services. The Pennsylvania Department of Aging's website has more information about resources available to older adults.