In This Update:
Ballot Questions on Limiting Emergency Declarations
Vaccine Transportation Service
UPMC Updates Vaccine Sign-Ups
Conemaugh Memorial Medical Center Vaccine Registration
Wolf Administration Announces Plan to Add Tolls to Nine Existing PA Bridges
Lawmakers Authorize Use of PA National Guard to Distribute COVID-19 Vaccine
Senate Approves Bill to Generate More Private Donations to Support Veterans
Legislation Would Create Medals of Commendation for Firefighters, Law Enforcement, EMS
Mixed Earners Unemployment Compensation Claimants Must File by March 12
---
Wolf Ballot Language Politically Charged, Prejudicial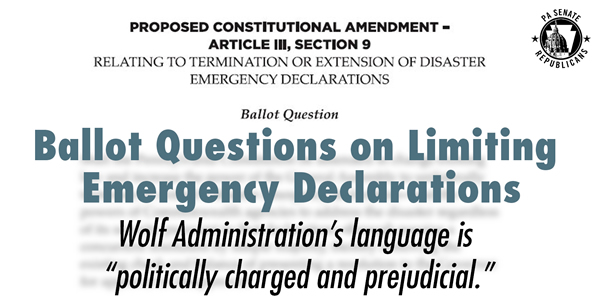 This spring voters will be asked if the state constitution should be amended to limit future emergency declarations to 21 days unless extensions are approved by the General Assembly. The ballot language for consideration by the voters is written in a way that shows the Wolf Administration wants these measures to fail. Contrary to how the questions read, the General Assembly will not be able to act unilaterally. We will have to work in concert with the Executive Branch in order for policies to be passed. It also alleges checks and balances will be lost. There are no checks and balances right now. We have authoritarian power ruling many aspects of our lives including the openings of employers and our schools. I will continue to educate constituents on why – no matter how it is worded – this referendum is important and provide voters with the information to make a decision that best suits them.
Ballot Question
Shall the Pennsylvania Constitution be amended to change existing law and increase the power of the General Assembly to unilaterally terminate or extend a disaster emergency declaration—and the powers of Commonwealth agencies to address the disaster regardless of its severity pursuant to that declaration—through passing a concurrent resolution by simple majority, thereby removing the existing check and balance of presenting a resolution to the Governor for approval or disapproval?
Vaccine Transportation Service
Rabbittransit (Cumberland and Franklin Counties) is offering shared ride transportation service to any community member who needs transportation to and from their scheduled COVID-19 vaccination appointment. As the COVID vaccine continues to become more available, rabbittransit are dedicated to ensuring that transportation is not a barrier in getting vaccinated and is ready to assist the community with transportation to reach their vaccine appointments. When scheduling a shared ride trip to a vaccination site, riders must have a confirmed COVID-19 appointment at the location they are requesting transportation. If you are in need of transportation to a COVID vaccination site in the rabbittransit service area, contact the rabbittransit Call Center at 1-800-632-9063.
UPMC Updates Vaccine Sign-ups
Pennsylvania remains in phase 1A for COVID-19 vaccination distribution. The phase includes 4 million people who are health care workers, senior citizens in residential care, people age 65 or older, and people 64 and younger with certain preexisting conditions.
UPMC has a scheduling system online for 1A patients here.
The health system encourages people with internet access to sign up online to keep the phone line open for those without a computer or smartphone.
Conemaugh Memorial Medical Center Vaccine Registration
Conemaugh Memorial Medical Center which includes Conemaugh Nason in Blair County, shifts vaccine registration and appointment scheduling to their health system's MyChart. Find Link Here. Those who do not have a MyChart account can register for one by visiting MyChart.Conemaugh.org. Conemaugh Memorial Medical Center has also developed a dedicated phoneline (814-410-8400) for scheduling vaccinations.
Wolf Administration Announces Plan to Add Tolls to Nine Existing PA Bridges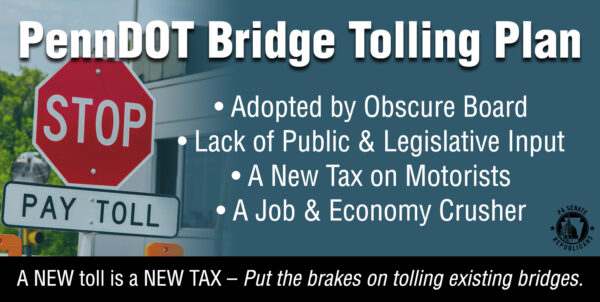 The Pennsylvania Department of Transportation (PennDOT) unveiled a proposal last week to toll nine existing bridges on the Interstate System. The plan raised serious concerns since it was done unilaterally by the Wolf Administration without any sense of transparency or accountability, and without the input or authorization of the General Assembly.
Eight of the nine bridges are in Senate Districts represented by Republicans. The tolling proposal would impact the following bridges:
I-78 Lenhartsville Bridge Replacement Project in Berks County;
I-79 Widening, Bridges and Bridgeville Interchange Reconfiguration in Allegheny County;
I-80 Canoe Creek Bridges in Clarion County:
I-80 Nescopeck Creek Bridges in Luzerne County:
I-80 North Fork Bridges Project in Jefferson County;
I-80 Over Lehigh River Bridge Project in Luzerne and Carbon counties;
I-81 Susquehanna Project in Susquehanna County;
I-83 South Bridge Project in Dauphin County; and
I-95 Girard Point Improvement Bridge Project in Philadelphia County.
Imposing these bridge tolls will negatively impact the people who use those highways as part of their daily commute — just as surely as if we would impose any of the other taxes that the governor wants to levy as part of his budget this year. Legislation will be proposed soon to reform the statute that PennDOT is utilizing to push this plan forward and prevent new tolling without proper transparency and oversight.
Lawmakers Authorize Use of PA National Guard to Distribute COVID-19 Vaccine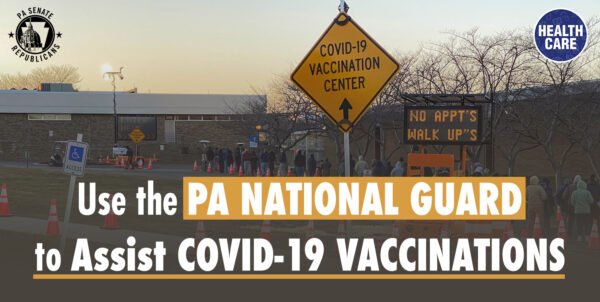 The Senate voted recently to authorize the use of the Pennsylvania National Guard to distribute the COVID-19 vaccine. The bill would allow the National Guard to operate under the guidance of the Pennsylvania Departments of Health and Human Services to help collect, secure and transport doses of the vaccine. The measure now goes to Governor Wolf for his approval.
In addition, National Guard members who have the necessary training would be permitted to administer the vaccine to Pennsylvanians who want to receive it. The proposal could help improve Pennsylvania's troubled roll-out of the COVID-19 vaccine. The state currently ranks 46th in the nation in terms of the percentage of distributed vaccines that have been administered.
Senate Approves Bill to Generate More Private Donations to Support Veterans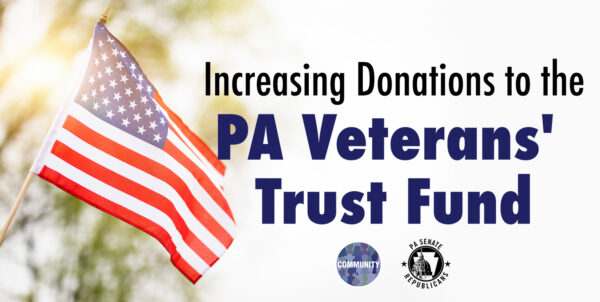 Pennsylvanians could donate more money to help veterans under a bill the Senate approved on Wednesday. The legislation would increase the donation amounts to the Veterans' Trust Fund when Pennsylvanians renew a driver's license, ID card or vehicle registration.
The bill would increase the donation amount from $3 to $5, or from $6 to $10 when applying for a two-year vehicle registration. All donations support grants to county directors of veterans' affairs, veterans' service organizations and other charitable organizations that provide assistance, shelter and living necessities to veterans and their families.
Legislation Would Create Medals of Commendation for Firefighters, Law Enforcement, EMS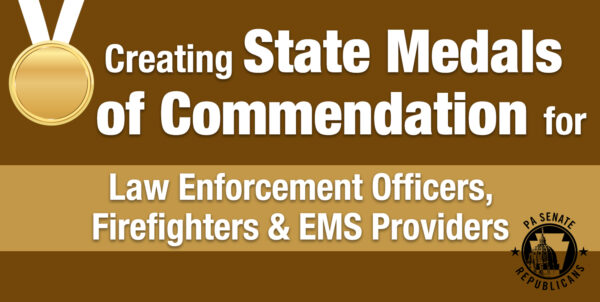 The Senate passed legislation this week that would create a new way to honor members of law enforcement, firefighters, and EMS personnel who demonstrate uncommon heroism in the line of duty. The bill would establish special medals of commendation to be awarded to members of these organizations who are injured or killed in the line of duty, or who demonstrate exceptional gallantry, heroism and bravery in the face of life-threatening circumstances.
The color of each medal – the Star of Valor, Heart and Medal of Ultimate Sacrifice – would coordinate with the respective program: blue for law enforcement, red for firefighters, and white for EMS personnel.
Mixed Earners Unemployment Compensation Claimants Must File by March 12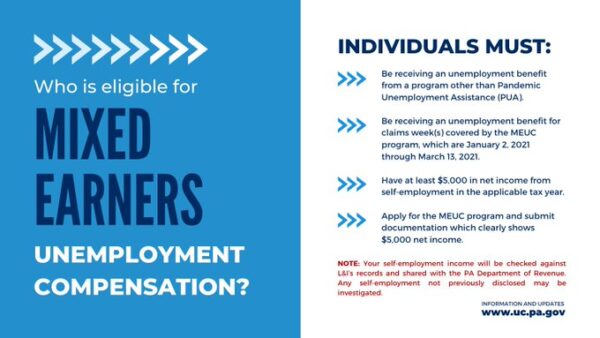 The Mixed Earners Unemployment Compensation program provides an additional $100 in weekly benefits for claimants who earned at least $5,000 in net income from self-employment. Claimants must submit acceptable documentation by March 12 to receive the extra benefits. The additional benefit applies from January 2 through March 13.
Pandemic Unemployment Assistance claimants are not eligible for the program. Details on the program, applicable tax years and documentation are available here.